Downton Abbey: Can Bampton village cope with all the attention?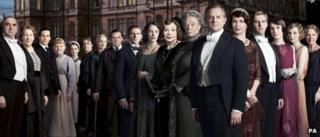 Coach loads of Downton Abbey fans have been turning up in the Oxfordshire village where scenes for the hit show are filmed - but can the village of Bampton cope with all the extra attention?
The village is at the "heart of a storm" of one of the "biggest television moments in history," said Robin Shuckburgh, chairman of Bampton Archive which aims to preserve the village's social history.
He believes Bampton - where exterior shots for the show are filmed - needs to come up with a "strategy" to cope with its recent fame.
"The village isn't quite prepared for this kind of influx - it's an interesting experience," he said.
"The coaches are coming at a rate of maybe two or three a week - but we have a sneaking feeling that they are going to increase quite soon - so we're just going to have to wait and see."
'Quaint'
The third series of the award-winning ITV1 show, set in the 1920s, begins soon.
The period drama is set in a fictional Yorkshire country house and follows the lives of the aristocratic Crawley family and their servants.
Although set in Yorkshire, exterior scenes for the show are filmed in Bampton and inside the stately home Highclere Castle in Berkshire.
Alison Hirst, from Dublin, and her mother Elizabeth Hirst, were among the coach trippers to Bampton.
"We're just addicted to Downton Abbey - simple answer," she said.
"Just addicted - and I saw this tour advertised in a newspaper in Ireland and got on the phone to my mum and asked whether she'd be interested.
"I think we just fell in love with the characters - it's so believable - and I think we're all obsessed with the different classes.
"It's quaint here - all the buildings - and it's just really pleasant."
Bampton's atmosphere has changed since tours started arriving in the village, said Mr Shuckburgh.
"When two coaches pitch up at the same time and 70 people descend on the square it changes the character of the place completely," he said.
"We do need to look rather carefully at what that's going to do to us in the future."
Mr Shuckburgh said it would be a "shame" if the village was affected "badly" and did not benefit from the increased tourism.
A shop has started selling Edwardian-themed memorabilia.
Tour guide Maureen Maloney said: "Two coach loads went in and absolutely cleared the library - they didn't know what hit them - of mugs and books and postcards.
"If we'd been able to get more bookings to Highclere we would have had half the population of Ireland here.
"It's very difficult to get bookings at Highclere - but we'll be well ahead of the posse next year."