Hillsborough papers: West Midlands Police 'knew of statements changes'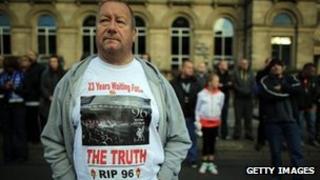 West Midlands Police says it will review a report on the Hillsborough disaster which said it knew South Yorkshire officers altered statements.
An independent report found some of the 96 dead might have been saved and said police had changed witness statements and tried to blame Liverpool fans.
The West Midlands force was tasked with investigating South Yorkshire officers' conduct after the 1989 stadium crush.
It said it would respond positively to any action arising from the findings.
The report published on Wednesday was compiled by the Hillsborough Independent Panel, which had scrutinised 450,000 pages of documents.
It found South Yorkshire Police had changed some of the 164 statements made in the wake of the tragedy in April 1989 at Sheffield Wednesday's ground.
The report found 116 of the police statements identified for "substantive amendment" had been "amended to remove or alter comments unfavourable to South Yorkshire Police".
West Midlands Police investigated South Yorkshire officers' conduct for an independent inquiry led by Lord Chief Justice Taylor in the immediate aftermath of the disaster, for the director of public prosecutions and for the South Yorkshire coroner.
The independent report published on Wednesday revealed a senior West Midlands Police officer at the time accepted the way that South Yorkshire Police was dealing with the statements.
Statements were often written on plain pieces of paper instead of the usual Criminal Justice Act forms on the grounds that they were "not required for the purpose of any criminal investigation", the report added.
It also said West Midlands Police Assistant Chief Constable Mervyn Jones said at the time he saw "no problem" with this.
The report showed West Midlands Police did not carry out any "dip" tests which would have involved a sample of statements being looked at to make sure alterations were not changing the veracity of them.
In a statement on Thursday, West Midlands Police Assistant Chief Constable Gareth Cann said the force "supported the independent panel's disclosure of information".
He said: "West Midlands Police will consider and review the content of the Independent Panel's report.
"As a force we will respond positively to any action arising from the panel's findings."
Bishop Derek Webley, Chair of West Midlands Police Authority said he had asked the Chief Constable to update the authority.
Former Justice Secretary Lord Falconer said: "If one police force investigates another... what the investigating police force does is just let the subject of their investigation get away with things like that. Who can have confidence in one police force examining another?"