North Weald plane crash: 'Parachutes might have saved crew'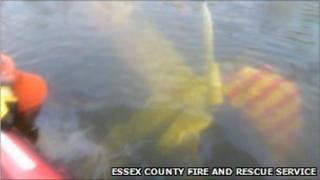 Two men who died in a plane crash might have survived if they had attempted to parachute to safety, says a report.
Instructor Simon Hulme, 33, and his 43-year-old student, Spencer Bennett, were killed when their light plane crashed at Maldon, Essex, in April 2011.
The formation flying school organisers in Essex have introduced compulsory practice drills for abandoning planes.
The Air Accidents Investigation Branch (AAIB) said the plane crashed after going into a spin.
The AAIB concluded that the aircraft hit a lake during the recovery from the inverted spin.
The men wore parachutes, but had not attempted to escape the aircraft.
No technical malfunction or defect was identified to account for the accident.
The Russian-built YAK-52, an aerobatics trainer, was one of three aircraft flying in formation shortly before the crash.
The men were taking part in a formation flying school at North Weald Airfield.
Flt Lt Hulme, from Cirencester, Gloucestershire, was an RAF pilot. Mr Bennett was a British national living in Holland.
The AAIB report said their plane was at approximately 1,800ft and had ended a spin sequence after three turns.
It was likely that the entry into the spin was not intentional "but began when the flying controls were placed into pro-spin positions with the aircraft inverted, at low speed and high angle of attack", said the report.
It was not known which of the two men was handling the controls at the time.
The report went on: "Inverted spinning is known to be a disorientating experience and the spin in this case continued for at least three turns.
More safety measures
"The student and instructor's lack of experience in inverted spinning may have delayed effective recovery action.
"Although both occupants wore parachutes, there was no evidence of an attempt to abandon the aircraft and witnesses indicated that little attention had been paid by participants in the formation school to the use of parachutes.
"Had the occupants attempted to abandon the aircraft when control was lost or shortly thereafter, fatalities may have been prevented."
Flt Lt Hulme had described the student as a slow learner but with a "correct attitude", who made slightly more mistakes than others.
The report recorded that the student's handling skills were "below average".
"However, he was willing to work very hard to achieve a suitable standard and did not perform unpredictably."
Instructor training
The school has now introduced compulsory practice drills for abandoning an aircraft by parachute.
A more formal and recorded method had been introduced to establish students' previous experience.
Instructor training on all modes of spin and low speed flying has taken place with refresher courses conducted at each of the twice-yearly schools.
The main briefing on day one has been expanded to include a fuller discussion of the roles of the aircraft commander and the instructor.