Surrey Bestival coach crash: Merseyside victims named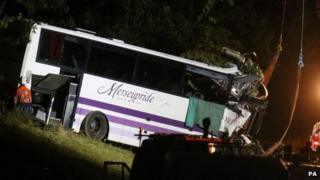 Two of the three people killed when a coach from Merseyside crashed into a tree on its way back from a music festival have been named by police.
The driver 63-year-old Colin Daulby and Michael Molloy, 18, both of Merseyside, died when the vehicle came off the A3 near Hindhead, Surrey, on Monday night.
Surrey Police said the third victim had not been formally identified.
The coach was returning to Merseyside from Bestival, on the Isle of Wight, when it crashed.
The other 50 passengers, aged between 22 to 28, were also injured in the incident, some of them seriously.
Eleven people remained in hospital on Tuesday night.
The family of Mr Molloy, from Woolton, south Liverpool, said it had lost a "beautiful son and a beautiful person".
Neighbours of Mr Daulby, from Warrington, described him as an "all-round good guy".
'Traumatic incident'
The coach crashed between the Hindhead Tunnel and Thursley exit. It has now been removed from the scene as accident investigators continue to examine the crash site.
Surrey Police said the northbound carriageway of the A3 was reopened at 23:30 BST on Tuesday.
Officers have been in contact with the families of the three people who died.
Bestival organiser Rob Da Bank said news of the accident had come as "a terrible shock" at the end of what he hoped had been "a joyous weekend of music and fun".
Offering his condolences and "heartfelt sorrow" to the families and friends of those affected, he said it had "left a shadow" over the whole Bestival family and production team.
Assistant Chief Constable Jerry Kirkby said: "[Tuesday] has been a tragic day for the families of the deceased and a traumatic incident for all those involved.
"Surrey Police has been working tirelessly to keep people informed and it will be some time before the full facts have been established.
"My thoughts are with those who have suffered as a result of this incident and I would ask people to respect their privacy."
The force said neither the road conditions nor the weather were thought to have been a factor in the crash and the Merseypride Travel coach had only been on the road for about an hour after leaving Portsmouth.
Insp Richard Mallett said the vehicle had sustained a "significant impact".
"I understand the road was dry. We cannot see any reason that the road conditions would have had any effect on what occurred," he said.
Merseypride Travel's owner David Hannell said he and his staff were "devastated" and offered their "heartfelt sympathy" to all the families of the passengers involved.
He described the vehicle as a 51-seat "exec coach" which was 16 years old and said this was the firm's first serious accident in 20 years.
A casualty bureau number has been set up and people concerned about passengers on board the coach can call 08000 560 154.