Derriford Hospital appoints three new directors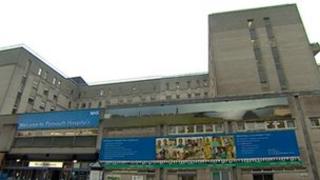 The South West of England's biggest hospital - Derriford in Plymouth - has appointed three directors to its board, following claims in May of a "leadership vacuum".
The members selected by Plymouth Hospitals Trust include its former medical director - heart surgeon Professor Terence Lewis - and a retired hospital boss who has been an outspoken critic of the NHS reforms.
When a new chairman was announced in May, three board members resigned in protest, and hospital consultants complained to the then Health Secretary Andrew Lansley.
They criticised the move to appoint Richard Crompton, the newly-retired chief constable of Lincolnshire Police, instead of well-respected acting chairman, Peter Burroughs.
Foundation work
David Pond and Lee Paschalides, the board members who stepped down, along with Mr Burroughs, said stability was needed to lead the trust through a very challenging time.
The trust has had to save £55m over two years, is having to cope with major reorganisation in the NHS, and is attempting to meet the targets necessary to give it foundation trust status.
Also, many top managers, including the chief executive and financial director, were temporary appointments.
However, last month the trust announced Ann James as the new chief executive.
She brings a wealth of health service experience to the role, having been chief executive of Plymouth and Cornwall's primary care trusts before doing the same job in Devon.
On Tuesday, the trust has named three new non-executive directors, each with track records in health and care.
Professor Lewis is the surgeon credited with establishing heart surgery in the South West about 15 years ago.
He was medical director of Plymouth Hospitals Trust before his retirement in 2007, and Derriford's state-of-the-art cardiothoracic unit is named after him.
He said the new board's job was to make whatever changes were required.
"But changes there have got to be, because the country can't afford the NHS the way that it is," he said.
"Hospitals have been spared things so far, but reorganisation I think is bound to hit the hospital service next."
Elizabeth Raikes is shortly to stand down as chief executive of Torbay Council, so is experienced in social care and in liaising with the health service.
'Huge turmoil'
The third new board member is Dr Michael Williams, a former chief executive of Taunton and Somerset NHS Trust and Oxford Radcliffe Hospitals.
Now a senior research fellow at the University of Exeter Business School, he has been a forceful critic of the government's health service reforms.
In February, he told the BBC the combination of major reorganisation and the need for the NHS to save £20bn had led to "huge turmoil", which would lead to greater risk for patients.
The hospital takes patients from Plymouth and the surrounding area, as well as parts of Cornwall.