Shaw explosion: Man charged with manslaughter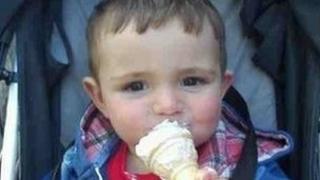 A man has been charged with manslaughter after a suspected gas explosion killed a two-year-old in Greater Manchester.
Jamie Heaton died when the blast ripped through Buckley Street, Shaw, on 26 June, destroying two homes.
Andrew Partington, 27, who lived next door, was charged with manslaughter and criminal damage estimated at more than £1m to properties on the street.
Oldham magistrates remanded him in custody.
He is next due to appear at Manchester Crown Square Crown Court on Tuesday.
Greater Manchester Police said a 32-year-old man arrested on suspicion of manslaughter remains on police bail pending further inquiries.
The man, who was arrested in London, had previously inspected a boiler in the house where the explosion happened.
Distress fund
Police were called to Buckley Street at around 11:15 BST where two houses, number nine and number 11, were destroyed in the blast. Six others were demolished later because of the damage.
Jamie was watching television in the living room of his home at number 11 when the explosion took place.
The toddler's mother, Michelle Heaton, was at home at the time of the explosion but survived as she had gone into the back yard to hang out her washing.
Mr Partington suffered severe burn injuries and was recently brought out of a coma at Wythenshawe hospital where he was being treated.
About 175 homes were evacuated immediately after the incident.
Six homes are still being assessed by structural engineers and insurance loss adjusters to decide whether or not they will need to be demolished.
A distress fund set up to support those affected by the explosion has so far raised £285,000.