Ben Gummer MP fights for fair rail fares in the east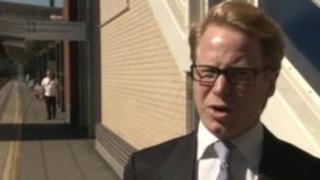 If you think your weekly rail ticket is too high, your train carriage too old and your journey time too slow, here's something that will depress you even further; you're subsidising passengers in other parts of the country to use trains there.
Figures obtained by Ipswich MP Ben Gummer show that every time passengers in the east use the train, part of their fare goes towards paying Greater Anglia's franchise payment.
This means that because the east is one of just two net contributors to the Treasury - part of that payment is given out to other loss making lines to help keep down fares elsewhere.
It means a passenger buying a return ticket from Norwich to London will pay £10.35 to subsidise another rail company. An annual ticket holder will pay a whopping £2,689.
Passengers travelling from Ipswich will pay £6.20 on a return ticket, or £1,611 a year in subsidies; while a passenger from Colchester would pay £4.64 for a day return or £1,207 annually.
"We're paying an enormous amount of money out of our rail tickets for other users to have discounted fares," says Mr Gummer. "I don't think that's on when we're not getting the infrastructure investment which other parts of the country are getting."
Improvements needed
Mr Gummer says the pill would be easier to swallow if rail travellers in the east felt they had a modern and efficient train service.
"How can the government justify giving 3.6p to London Midland for every passenger kilometre travelled, when its trains are on average 14 years younger than ours?
"How can the government explain why it is so generous with East Anglia rail users' money when our own trains are the most overcrowded in the country at peak times, after those of train companies operating between Heathrow and Gatwick airports?"
He points out that to travel 115 miles between Norwich and London takes one hour and 49 minutes, while to travel from York to London, which is nearly twice as far, takes just eight minutes longer.
Mr Gummer tells us it was hard work persuading the Department of Transport to make the figures public and he says he now intends to raise the matter with ministers repeatedly.
Regional manifesto
As we have reported before, there is a big campaign by the region's MPs for increased investment in the region's rail network. Earlier this year they produced a regional manifesto. Mr Gummer, who has been one of the leading campaigners, hopes this discovery will add more grist to the mill.
Abellio, owner of the Great Anglia franchise, will pay £151m to the government this year and £181m next year.
The Department of Transport says that our contribution to the subsidy "helps to fund fair and affordable rail services for everybody" and it's against the idea of changing the system.
But with the new franchise about to be renewed, Mr Gummer believes now is the ideal time to kick up a fuss.