Tour of Britain: Ipswich-to-Norwich stage breaks crowd record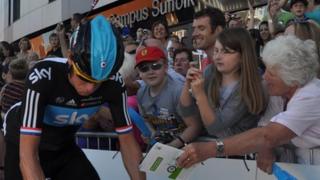 Organisers of the Tour of Britain cycling race say the opening Ipswich-to-Norwich stage attracted record-breaking crowds.
It is estimated 175,000 watched the 200km (124 miles) stage on Sunday - 25,000 more than last year.
The Norfolk Showground had a crowd of 25,000 for the finish.
Peter Hodges, spokesman for the Tour, said: "I've done six Tours of Britain and I've never seen crowds like that at any stage finish, excluding London."
It is the third year the Norfolk and Suffolk stage has featured in the Tour of Britain.
It began at Ipswich waterfront, where Bradley Wiggins, the four-time Olympic gold medallist and Tour de France winner, and Mark Cavendish, the reigning world road race champion, were in demand from autograph-hunters.
'Something special'
Mr Hodges said: "It shows that Britain has found cycling and we hope more people will now take up cycling for sport, leisure or health reasons.
"What could be more inspiring than seeing Bradley Wiggins and Mark Cavendish racing on roads that you're familiar with?"
Colin Grogan, sport development officer at Suffolk County Council, said: "The fact that Wiggins and Cavendish made this their first post-Olympic Games event made this something special.
"We won't know what the full economic impact has been for a couple of weeks, but it has been significant and bigger than previous years with at least five of the bigger hotels around Ipswich full of teams from Friday onwards."
Norfolk County Council helped organise the finish event at Norwich where Luke Rowe was stage-winner.
Fiona Roberts, the council's Tour of Britain officer, said: "We were expecting a big crowd, but the lining of the route exceeded expectations, especially where whole villages seemed to turn out at places like Coltishall, Reepham and Mattishall.
"More businesses have been embracing the Tour such as pubs putting on fun days and that's down to the Wiggins/Cavendish/Olympics effect."