Lady Godiva puppet leads London Mayor's Thames parade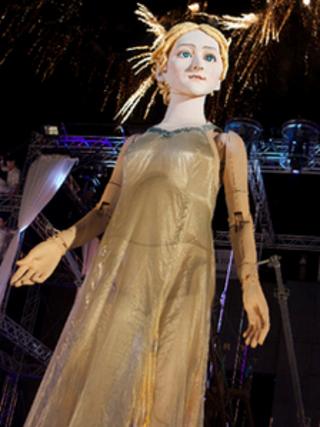 A 6m-high puppet of Lady Godiva made in Coventry has led the night carnival at the London Mayor's Thames Festival.
The parade on Sunday night featured more than 1,500 dancers, drummers and other performers in costumes.
Fashion designer Zandra Rhodes presented the puppet with a handbag she designed to match Godiva's gown.
Jane Hytch, from Godiva designers Imagineer Productions, has said they were "very excited" to be part of the festival.
"We have been overwhelmed by the public outpouring of love, support and enthusiasm for Godiva since her awakening and journey last month," she added.
"So many people have supported this project."
It was the puppet's first public performance since the Godiva Awakes event in Coventry in July which was followed by a seven-day journey to London to celebrate the Olympic and Paralympic Games.
Her movement is powered by a team of 100 cyclists riding on a giant bike, called a Cyclopedia.
The Mayor of London's Thames Festival is the capital's largest outdoor arts festival.