Lansley defends his record after losing health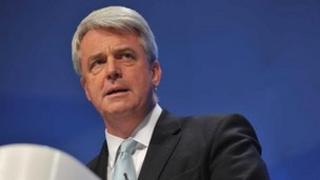 In his first interview since being moved from Health Secretary to become Leader of the House of Commons, Andrew Lansley defended his health reforms.
"The service is in good financial shape," he said.
"We've delivered £10 billion of efficiency savings and all performance measures have improved in the last two years."
Mr Lansley says he doesn't believe he was removed through any dissatisfaction with the reforms or the progress of the reforms.
"I do think it was fair that after what is approaching 10 years to think about succession planning, so health doesn't rest in the hands of one person."
The MP for South Cambridgeshire remains in the Cabinet and continues to be friends with David Cameron whom he's known for 20 years.
Also leaving the health department is Chelmsford MP, Simon Burns, who becomes a minister in the Department of Transport.
However, joining health is North Norfolk Lib Dem, Norman Lamb.
Finally back in the department he shadowed before the coalition, he's now Minister of State for Care Services.
There he'll be responsible for drawing up new plans for care of the elderly - he almost reached a consensus on that subject with Labour and the Conservatives while in opposition.
Dr Daniel Poulter, a practising doctor and MP for Ipswich North and Central Suffolk, also joins the Health Department as Parliamentary Under Secretary of State.
Class of 2010
Conservatives from the "class of 2010" seem to have made a good impression.
Several have made it into ministerial positions for the first time.
Back in 2009 it was touch and go whether Elizabeth Truss would even become an MP after the Conservative association in South West Norfolk threatened to deselect her.
David Cameron went out on a limb to support the former director of the Reform think tank. Now it's clear why.
In making her a junior minister in the Department for Education the Prime Minister told her that he's giving her a chance to try to put some of her ideas into action.
With her in the education department is fellow East Anglian, Matt Hancock.
He's been asked by the PM to look after apprenticeships and higher education, something he feels "passionate" about.
George Osborne's former chief of staff, the MP for West Suffolk has also been handed a junior ministerial role in Business Secretary, Vince Cable's, department.
Mr Hancock is "thrilled and honoured" at the appointments.
"It's a big job and I'll give it my all", he assured me.
Cabinet casualties
Chloe Smith had a roller coaster ride during her 10 months at the Treasury.
As minister responsible for taxation she found herself taking the flak, unfairly many say, for the "omnishambles" budget, concluding in an unfortunate interview with Jeremy Paxman on Newsnight.
We understand the Prime Minister told her she'd done a good job and that she's pleased to be moving to the Cabinet Office to take on a new role, which will involve civil service reform.
The decision to remove Cambridgeshire MP Jim Paice came as a shock to many in the farming community, where he was a popular.
Even if he didn't know the price of a pint of milk, he managed to negotiate a new deal between farmers and the supermarkets - finalised just hours before he lost his job.
In a statement, Mr Paice said the job had been close to his heart, adding: "I have said repeatedly to farmers, change should be seen as an opportunity - that applies to me now!"
But the pill is surely sweetened by the news he's to be knighted after 23 years of distinguished service.
Henry Bellingham, MP for Norfolk North West, also lost his post.
The Foreign Office minister maintained he'd been to 61 countries in two years and would be glad of a break to spend time fighting incinerator plans in his constituency.
Another casualty was Jonathan Djanogly, Huntingdon MP, who was removed from his role as Justice Minister, following his magistrates courts closures programme.
Winners
Eric Pickles made keeping his job as Communities Secretary look easy and the Brentwood MP is now joined by the former leader of Brentwood council and current Great Yarmouth MP, Brandon Lewis, who takes a junior ministerial role.
Another Essex MP, Mark Francois, becomes a minister at defence.
He'll be responsible for the welfare of military personnel and war veterans.
The MP for Rayleigh and Wickford has served as a TA officer in the Royal Anglian Regiment.
Grant Shapps, MP for Welwyn Hatfield, moved from Housing Minister when he was confirmed as the new Tory chairman, while Hertford and Stortford MP, Mark Prisk, moved from business to replace Mr Shapps, taking his housing brief.
Oliver Heald, MP for North East Hertfordshire, will be the new Solicitor General.
And Mark Lancaster, Milton Keynes MP, becomes a government whip.
After that lot, it's clear the region's MPs still wield a great deal of influence in government, although perhaps not quite so much as before.
Don't worry though, even if they're now ministers - our MPs assure us they'll still put their constituents first.