French shootings: Claygate in shock over family killing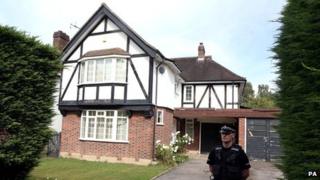 Residents of an affluent Surrey village have expressed their shock at the killing of three members of a local family in the French Alps.
French media have named Saad al-Hilli, from Claygate, near Esher, as one of the four victims of Wednesday's shooting near the town of Annecy.
Neighbours in Claygate said Mr al-Hilli's wife and mother-in-law were also killed in the attack.
The couple's two children, seven-year-old Zainab, who is believed to have been seriously injured in the shooting, and Zeena, aged four, are in hospital.
'Very caring family'
Mr al-Hilli and his family had been holidaying in a caravan at the Le Solitaire du Lac campsite in nearby Saint-Jorioz.
French Police said three of the four people had been shot in the head.
Members of the public have been leaving flowers outside the al-Hilli family's two-storey detached home in Claygate, outside which a police officer stands guard.
Mr al-Hilli was described as a "massively helpful man" and Mrs al-Hilli was said to be working as a trainee dentist.
Neighbour George Aicolina told BBC News: "They were a very caring family and they always did things together.
"The father used to read to the girls quite regularly. It's an almighty shock.
"I was speechless [when I heard] and cried for a while. It's very sad to happen to such a young and lovely family.
"They were well established in the area, the two girls went to a local school.
"It's very difficult for me to talk about. They were well-liked. The older one was very creative and articulate.
"They played like kids do and it's very difficult to see how they will cope without a father and mother."
Lorna Davey, whose daughters attended the same primary school as Zainab, said the family were friendly neighbours.
She added: "They were very pretty, smiley little girls and a very nice, happy family.
"I'd see them on the way to school and on the way home from school and we'd have a friendly chat to pass the time of day, that sort of thing.
"I'm shocked. They've obviously been extremely unlucky."
Jack Saltman, whose house backs on to the family home, told BBC Radio 5 Live he had information that he was going to pass on to the police.
He said: "I know one little thing which I am not prepared to speak [about] at the moment. I will tell the police about it.
"It was something Saad said to me before he went but at this stage I do not feel I can disclose that but I will tell the police exactly what he told me before he left."
Mr Saltman added: "His two daughters were absolutely gorgeous, they were beautiful little girls.
"Zainab, the elder girl, highly articulate, highly intelligent girl. The little girl was vivacious, full of life, a really bubbly little girl.
"They used to play together in the back garden and when I was working in the garden they would always come over and have a chat."
Surrey Police said it was assisting the French authorities and liaising with the Foreign and Commonwealth Office.