Police and crime commissioner elections: Kent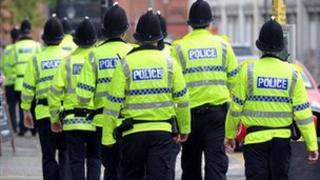 On 15 November 37 police and crime commissioners will be elected in England along with four in Wales.
The PCCs, as they will be known, will be tasked with scrutinising their force and holding it to account. They will also be able to hire and dismiss the chief constable and set the force's budget.
The commissioners will be paid and are supposed to empower local people into having a say on how crime is tackled in their area.
Nominations for candidates in Kent have now officially closed.
BBC News has taken a look at each of the police forces ahead of the elections.
Kent Police
Kent, known as "The Garden of England", borders London, East Sussex, and Essex across the Thames estuary, and has just over 350 miles of coastline.
According to local authority statistics, Kent has a resident population of just over 1.46m - the largest of all the English counties. Out of that population, 71% of people are in urban areas.
Over the past 10 years, Kent's population has grown faster than the national average and is forecast to increase by a further 10.9% between 2010 and 2026.
The average house price this August was just over £243,000. The county had more than 50,000 businesses. Its two largest industries were construction and the professional, scientific and technical sector.
The Kent Police area also covers Medway, where the most densely populated area is Gillingham, and the least populated area is the rural Hoo Peninsula.
Medway's population has grown overall by 1.5% since 2001, according to the council's area profile in December 2011.
A quarter of Medway's businesses were banking, finance and insurance firms. The area also had a large construction sector, and the public sector was Medway's largest employment area.
Kent Police priorities from 2012 to 2015 included delivering effective local policing by reducing crime, dealing with anti-social behaviour, improving visibility, accessibility and responsiveness, improving public satisfaction, and bringing offenders to justice.
The force also set out to protect the public from serious and organised crime and make best use of resources by showing increasing efficiency and value for money.
Last year, the force unveiled a new model for policing Kent and Medway which put neighbourhood policing at the heart of its operation.
The force's most recent policing plan, covering 2012 to 2015, included a commitment to partnership working. A collaboration between the Kent and Essex forces has seen the establishment of a joint serious crime directorate, joint operations to police the Dartford crossing, and other sharing of resources.
In 2003, the Kent Police Authority (KPA) appointed the UK's first black chief constable, Mike Fuller, who later became the chief inspector of the Crown Prosecution Service. The Kent force is now led by Chief Constable Ian Learmonth.
Funding
The Kent Police budget for 2012/13 was £274.7m.
Last year, KPA set the force a savings target of £50m over four years - Kent Police is now in its second year of the savings programme.
When savings targets were set, KPA unveiled a modernisation programme that would see a 50% increase in neighbourhood officers and staff from 800 to 1,200, but which also included the loss of 1,000 staff posts and 500 officers.
At the end of 2010, before the savings programme began, Kent Police had 3,674 police officers, 2,480 police staff employees, 366 police community support officers and 290 special constables.
Crime and performance
According to KPA, Kent Police was meeting six out of 10 policing plan targets in March 2012.
Figures from the authority showed the force had aimed to reduce the level of all recorded crime by 2% in 2011/12, but had reduced it by 3.6%.
The force surpassed a target for 87.8% of crime victims to feel satisfied by policing in their area with a figure of 88.2%.
It had also reduced the harm score of serious organised crime groups in Kent and Essex by 82.7% compared with its target of 50%, and increased efficiencies in pay-related savings, non-pay related savings, and frontline policing roles.
But the statistics showed the force failed to meet targets for dealing with anti-social behaviour, satisfaction of the public with policing in their area, and for level of recorded crime detected, and recorded violent crime detected.
The force set out to detect 35.4% of recorded crime, but achieved 34.1%. It aimed to detect 52.5% of recorded violent crime and achieved 46.1%.