Police and crime commissioner elections: Sussex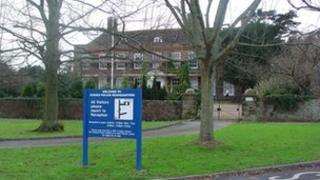 On 15 November 37 police and crime commissioners will be elected in England along with four in Wales.
The PCCs, as they will be known, will be tasked with scrutinising their force and holding it to account. They will also be able to hire and dismiss the chief constable and set the force's budget.
The commissioners will be paid and are supposed to empower local people into having a say on how crime is tackled in their area.
Nominations for candidates in Sussex have now officially closed.
BBC News has taken a look at each of the police forces ahead of the elections.
Sussex Police
Sussex is home to more than 1.5 million people spread across an area that includes both small rural communities and large urban settlements such as Crawley.
Brighton and other Sussex coastal resorts are especially popular with tourists from across the UK and overseas during the summer season and throughout the year.
Gatwick, the UK's second largest airport, is located in the north of West Sussex and serves about 33 million passengers each year.
Sussex Police is split into three divisions - West Sussex, East Sussex and Brighton and Hove - led by Chief Constable Martin Richards.
He said the force's main challenge for the 2012-13 period was to "police effectively in an increasingly challenging environment and make sensible and sustainable reforms and changes to the way we work".
Sussex Police currently employs more than 5,100 people, including 2,863 police officers and 2,260 police staff and community support officers.
Its local policing priorities are to use visible patrols to tackle crimes such as robbery and theft, using or dealing drugs, intimidating, drunk or rowdy behaviour in public places, burglary and vandalism and graffiti against property.
The force also polices Gatwick Airport and works in partnership with the airport operator, Counter Terrorist Intelligence Unit, the UK Border Agency and the Serious Organised Crime Agency.
Sussex Police recently established a joint command with Surrey Police for firearms, major crime investigation and forensics operations.
Funding
In 2011 it was announced that Sussex Police needed to lose hundreds of officer and staff posts to achieve savings of £52m by 2015.
The force said by the end of the programme it expected to have 400 fewer officers and 450 fewer staff. About 400 people have left the force so far.
The Sussex Police budget for 2011-12 was £262m. The force received £252.8m for its operations in 2012-13.
The force said it had identified savings of up to £9.9m in 2012-13 and savings of £15.9m beyond the current financial year to make sure its budget was sustainable up to 2015.
In April, Sussex Police Federation sent a letter to MPs across the county which said members were writing to the politicians "in despair" following the publication of the Winsor review into pay.
Mr Richards said people were the force's "most valuable asset" but there was an "underlying and ongoing need to modernise".
Crime and performance
In January HM Inspectorate of Constabulary said the force could do more to improve the quality of crime and incident recording but recognised that there was "strong chief officer leadership in this area and the force is committed to ensuring high standards".
A report by the chief constable on 19 July gave an overview of force performance for April to June 2012, the first three months of the financial year.
He said the authority and force were "well-placed to continue to deliver an effective policing service to the people of Sussex".
The force had recorded an 8.3% reduction in burglary of dwellings in the three months, driven by a 28.9% reduction in the Brighton and Hove division.
The police chief said the detection rate for burglary dwelling stood at 15.5%, which was slightly less than the 2012-13 target of 18%.
For serious sexual offences, the force had a target of solving 320 crimes in 2012-13 and by the end of the first quarter was 0.4% above target.
The force had a target of solving 3,200 domestic abuse crimes for 2012-13, and by the end of June was 90 detections short of the 807 required to meet the pro rata target.