Environment Agency admits crane driver death safety failings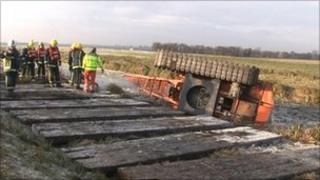 The Environment Agency has pleaded guilty to a charge under the health and safety act after one of its crane drivers died in Cambridgeshire.
Simon Wenn died when his 27-tonne crane collapsed and he became trapped under freezing water in a large drainage channel at Mepal in December 2010.
Cambridge magistrates committed the case to the city's crown court for sentencing.
Mr Wenn, 43, from Three Holes, had worked for the agency since 1992.
The Environment Agency pleaded guilty to section 2(1) of the Health and Safety at Work Act at court earlier.
Two other charges initially brought about by the Health and Safety Executive (HSE) were dropped.
Mr Wenn died on 8 December 2010 when the crane he was using to de-silt a counter drain in the Fens suddenly collapsed into the water.
'Fatal accident'
At the time the area was covered in ice.
Fire crews sent to the track, off the A142 near the Old Bedford River, broke the cab's glass so the man's head and shoulders were above water but he was found dead.
Cambridge Magistrates' Court heard the Environment Agency had failed to discharge its duty to ensure the safety of its worker.
It was also told there had been a similar incident in 2008 at another location.
The agency pleaded guilty to a breach in health and safety laws, describing the incident as a "fatal accident".
The HSE said more could have been done to safeguard Mr Wenn.
A statement from the Environment Agency said: "We very much regret the tragic death of Simon Wenn. We are not in a position to make any further comment at the moment."