Police and crime commissioner elections: Cheshire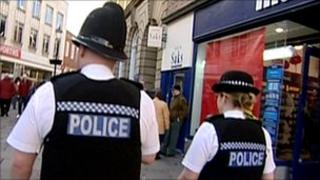 On 15 November, 37 police and crime commissioners will be elected in England along with four in Wales.
The PCCs, as they will be known, will be tasked with scrutinising their force and holding it to account. They will also be able to hire and dismiss the chief constable and set the force's budget.
The commissioners will be paid and are supposed to empower local people into having a say on how crime is tackled in their area.
Nominations for candidates in Cheshire have now officially closed.
BBC News has taken a look at each of the police forces ahead of the elections.
Cheshire Police
Cheshire Constabulary was founded in 1857 and is now responsible for policing nearly a million people.
The force covers an area of huge diversity. Scattered across the country are industrial towns like Warrington, Ellesmere Port and Crewe, and other areas of some social deprivation.
But also within its borders are large rural expanses, the historic city of Chester and prosperous residential towns, as well as more than 200 miles of motorway.
There are about 2,081 officers, 220 Police Community Support Officers (PCSOs) and 1,464 civilian staff.
The force underwent a major restructuring in 2005, when the six policing divisions were merged into three Basic Command Units (BCU), with more emphasis on neighbourhood policing within those areas.
Chief Constable David Whatton took on the role in 2008, after a stint as Deputy Chief Constable of Greater Manchester.
He holds the national portfolio for investigating the crimes of rape and serious sexual offending with the Association of Chief Police Officers.
Funding
Cheshire Police Authority is in the process of cutting up to 700 jobs to make savings of £34.5m by March 2015.
The force managed to save £13m in 2010/11 and a further £12m in 2011/12, and a partial freeze on recruitment is in place.
Its total budget for 2012/13 is £170.4m.
The force has the second highest council tax precept of its neighbours at £150.44 for an average Band D property.
Merseyside is slightly higher at £150.62, with Lancashire at £149.93 and Greater Manchester at £144.33.
Crime and performance
Crime across the county during 2011 fell by 6% on the previous year, according to Home Office figures.
There were 60,932 crimes last year, which equates to 61 per 1,000 people and compares favourably to 73 per 1,000 people across the North West, and 74 per 1,000 across England and Wales.
The only crimes to increase were sexual offences - a rise which officials said was in line with the region and could be due to a drive to increase victims' confidence in stepping forward - and drug crime, which rose by 5%.
However, complaints about Cheshire Police officers rose by 10% in 2011, according to the Independent Police Complaints Commission (IPCC), in contrast with the national trend which saw complaints against forces drop by 4%.
Cheshire Police recorded 476 complaints against its officers in 2010/11, a rise which the force said was due to people feeling "more confident" about raising concerns.
The main three areas of allegations against Cheshire Police officers were incivility, assault and neglect of duty.