Police and crime commissioner elections: North Wales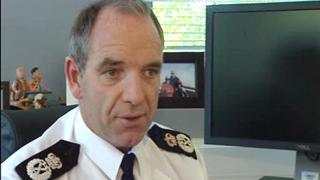 On 15 November 37 police and crime commissioners will be elected in England along with four in Wales.
The PCCs, as they will be known, will be tasked with scrutinising their force and holding it to account. They will also be able to hire and dismiss the chief constable and set the force's budget.
The commissioners will be paid and are supposed to empower local people into having a say on how crime is tackled in their area.
Nominations for candidates in North Wales have now officially closed.
BBC News has taken a look at each of the police forces ahead of the elections.
North Wales Police
North Wales Police covers the whole of north Wales, including the counties of Anglesey, Gwynedd, Conwy, Denbighshire, Flintshire and Wrexham.
The headquarters are in Colwyn Bay, with divisional headquarters in St Asaph, Caernarfon and Wrexham.
The area is mostly rural and includes the Snowdonia National Park, the home of Wales' highest mountain, Snowdon.
It also has a vast coastal area, around Anglesey, the Llyn Peninsula and the north coast of Wales.
The eastern part of north Wales contains the most populous areas, such as Wrexham and Deeside, while popular coastal resort towns include Rhyl, Llandudno and Pwllheli.
The major A55 road links the area to cities like Manchester, Liverpool and Birmingham and the port of Holyhead on Anglesey for ferries to Ireland.
Serving a population of 675,000 people, the force covers an area of 6,300 sq km. It has around 1,500 police officers and 160 police community support officers along with 900 staff.
The force's local policing priorities are:
Reduce crime and anti-social behaviour that impacts on communities.
Protect people and reduce harm.
Provide a quality service that delivers confidence within communities.
Promote a well led, organised and skilled workforce.
North Wales Police is led by Chief Constable Mark Polin, Deputy Chief Constable Ian Shannon, Assistant Chief Constable Gareth Pritchard and Mark Parkin, director of finance and resources.
They are appointed by the North Wales Police Authority and represent north Wales in national meetings where decisions are made which affect the policing of the area.
The force works in partnership with many authorities and organisations, including councils across north Wales, the Betsi Cadwaladr University Health Board, Welsh Ambulance Service NHS Trust, North Wales Fire and Rescue Service, Neighbourhood Watch, CEOP ( Child Exploitation and Online Protection Centre), PACT and community safety partnerships with communities across north Wales.
Funding
North Wales Police's overall budget for 2012-13 is £137.5m, down from £141.5m the year before.
The figure includes the annual police precept, which is paid by local taxpayers through their council tax bills, which is £214.56 per Band D property for 2012-13, a rise of 2.5%.
That compares to Dyfed-Powys Police at £198.54 (5%), Gwent Police at £193.09 (2.66%) and South Wales Police at £169.42 (5%).
As part of government spending cuts, North Wales Police has a target to save £16m by 2015.
It says it plans to meet 100% of the target, which will mean 162 officer posts (10% fewer) will go by March 2015. That will leave 72% of the workforce in the front line policing by 2015.
Crime and performance
Crime is increasing in north Wales, compared with an overall reduction across England and Wales, according to Her Majesty's Inspector of Constabulary (HMIC).
Between December 2010 and December 2011 recorded crime levels rose by 2%, compared with a 3% fall across England and Wales, HMIC found.
Based on the number of crimes per 1,000 people recorded in the 12 months to December 2011, the force came 19th out of 42 forces (where first equals lowest crime rate).
In the same time period the number of robberies rose by 20%, burglary was up by 16% and victim-based crime increased by 5%. However, criminal damage and arson was down by 5%.
HMIC also said that 82% of victims in North Wales were satisfied with the service from North Wales Police, which is less than England and Wales as a whole.