Reshuffle reignites south east aviation row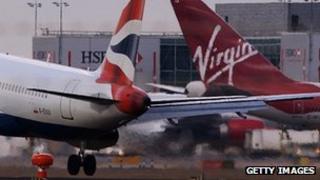 Well, the pack has been shuffled but many of the faces are familiar. In fact all of the top posts: chancellor, home secretary and foreign secretary are the same.
But as the dust settles what will the reshuffle mean for the south east?
Ashford MP Damian Green moved from his post as immigration minister to replace Nick Herbert as policing minister - a big job given the first ever elections for independent police commissioners are only around nine weeks away.
Conservative Party and Sevenoaks MP Michael Fallon who was Deputy Chairman of the Conservative Party had been tipped to take over as chairman.
But that job went to Grant Shapps. Instead, Mr Fallon was appointed Minister of State for Business. He has a good track record on the Treasury Select Committee and is very pro-growth.
Given David Cameron couldn't move Business Secretary Vince Cable, Downing Street said Mr Fallon will "be the voice of business" - his appointment will be seen as an attempt to rein Mr Cable in.
And Helen Grant, MP for Maidstone and the Weald, got her foot on the first rung of the ministerial ladder. She's only been an MP since 2010 but has been seen as a rising star and was appointed joint parliamentary under-secretary of state at the Ministry of Justice and for women's and equality issues.
But the biggest impact does not involve south east MPs, but the decision to move Transport Secretary Justine Greening from her role after only 11 months. She had been vociferous on her opposition to a third runway at Heathrow.
She had even said she would be unable to serve in a cabinet if the government were to do a U-turn on the issue. She has now moved to be international development secretary and been replaced by Patrick McLoughlin.
She was not the only person to leave transport though. Teresa Villiers, who had also opposed any expansion at Heathrow was promoted to be Northern Ireland secretary. She was replaced by Stephen Hammond.
The changes in key personnel at the Department for Transport has re-ignited the fierce debate over whether there should be a third runway at Heathrow or a new hub airport built in the Thames Estuary, the option favoured by London Mayor Boris Johnson.
The reshuffle wasn't even complete when Boris Johnson spoke out accusing ministers of being bent on a 'simply mad' plan to expand Heathrow after moving the person at the top at transport.
He admitted today Downing Street is very cross with him because they think he is being critical of David Cameron. He said he's not criticising, but he thinks they need to end the ambiguity.
And he's not the only Tory calling for certainty. Richmond MP Zac Goldsmith has called for David Cameron to "get off the fence" over a third runway at Heathrow and signal whether or not the Conservatives will go into the next election in favour of expanding the airport. He's also said he would not stand for re-election if the Conservatives decide to back a third runway.
Downing Street has rebuffed Johnson's calls for the government to rule out a third runway at Heathrow 'forever'. New Chairman of the Tory Party, Grant Shapps, said "all options" would be examined in the forthcoming consultation.
He ruled out a third runway during this parliament, but didn't go any further.
Patrick McLoughlin certainly has a tough job ahead of him. The issue over how to increase aviation capacity in the south east is a divisive one - and non-negotiable for Liberal Democrats and many Tories.
Mr McLoughlin so far has said very little on the matter. But newly appointed Transport Minister Stephen Hammond, who had previously campaigned against a third runway, has been more outspoken.
Writing in the Evening Standard in July he called for the case for a third runway to be re-examined as part of wider plans to increase airport capacity in the south east and said it would add extra capacity in the short term.
The reaction to David Cameron's first major reshuffle should leave him in no doubt there will be fierce opposition to any attempt by the Conservatives to resurrect plans for a third runway.