Staffordshire farmers give dairy code of conduct a cautious welcome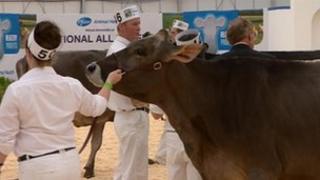 A Staffordshire farmer has described a code of practice agreed across the dairy industry as "a good start".
The voluntary code, announced at Birmingham's National Exhibition Centre, is designed to provide greater transparency in dairy contracts.
Dairy UK said its deal with the National Farmers Union would foster greater trust within the industry.
Farmer Paul Rowbottom said it was "fantastic news", but did not go far enough.
He said greater transparency "could only be a good thing", with contracts currently meaning some farmers receive up to 5p per litre less for their milk than others, even when dealing with the same buyer.
However, Mr Rowbottom said the biggest issue facing dairy farmers was the price of milk, with most farmers losing money on every litre.
He said: "Winter's getting close. Grass has been poor and the weather's been poor and the cost of feed has already gone up.
"Farmers are facing a very tough winter and I know plenty of people who can't clear their bills."
Mr Rowbottom said he left dairy farming 15 months ago, partly due to the state of the industry, but still runs an agricultural feed business alongside a sheep farm at Ipstones.
He said the price of milk was hurting every part of the supply chain as well as farmers themselves.
'Positive news'
Mr Rowbottom was also part of the Farmers For Action (FFA) group which blockaded Dairy Crest's factory at Foston in Derbyshire in July.
The group also organised protests over milk prices at Muller UK's headquarters in Market Drayton, Shropshire.
FFA Chairman David Handley said he expected "positive news" from Muller, which also owns Wisemans Dairy, within the next few days.
The campaigners held "constructive" talks with the company last month after threatening to shut down the Market Drayton plant.
Philip Smith, who also farms in Staffordshire, said Prime Minister David Cameron's cabinet reshuffle could also be good news for agriculture.
North Shropshire MP Philip Paterson left his post as Northern Ireland Secretary to replace Caroline Spelman as Environment Secretary.
"Hopefully the new man will have an understanding of the needs of dairy farmers and the countryside as a whole," Mr Smith said.