Reshuffle 'strengthens case against estuary airport'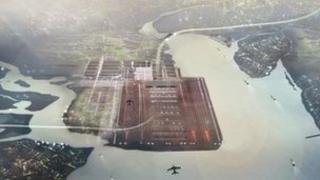 Campaigners against a new hub airport off the north Kent coast have said they believe their case is stronger following the government reshuffle.
Medway Council's deputy leader said replacing Justine Greening as transport secretary with Patrick McLoughlin was an interesting development.
"Our case is potentially stronger," said Councillor Alan Jarrett.
"We are seeing reason and common sense prevailing. We will continue to campaign vigorously on this matter."
Two plans have been put forward for airports in the Thames Estuary - one on an artificial island, known as "Boris Island", is backed by London Mayor Boris Johnson.
The other is by architect Norman Foster, who has proposed building a £50bn airport on the Isle of Grain.
Regional airports
Ms Greening was against building a third runway at Heathrow to increase airport capacity in the south of England.
Mr Johnson has said he believes she was moved to facilitate the expansion of Heathrow instead of the new Thames Estuary airport, but said he would fight a third runway "all the way".
"If he (Boris) thinks that's the only reason for Justine Greening being moved, that's a matter for him," said Mr Jarrett.
"There could be a variety of reasons for it."
Mr Jarrett said the appointment of Mr McLoughlin as transport secretary was an interesting development.
"Mr McLoughlin has said in the past that he actually thinks that developing a new airport in the south east was unlikely to be realistic or acceptable and apparently he has been favouring developing regional airports," said Mr Jarrett.
Medway Council itself favours expanding airports such as Manston, in Kent, instead of building the new hub.
A delegation of councillors and officers from Medway Council and Kent County Council, with MP for Rochester and Strood, Mark Reckless, visited Birmingham Airport last week to discuss potential expansion of regional airports.
"That seems to hold a lot of credence," said Mr Jarrett.