Green Party deputy leader Adrian Ramsay stands down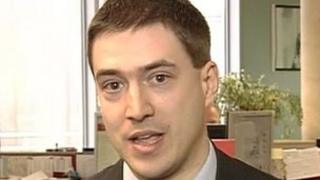 The Green Party has chosen a new leader and the east has lost a national figure in the form of Adrian Ramsay, who has stepped down as the party's deputy.
The man who began campaigning for the Greens before he was even old enough to vote, led his party to become the main opposition on Norwich City Council but now he has decided it's time to re-focus his priorities.
"I've recently got married and it's time to focus on other aspects of my life," he says, adding that now he's 30. "Like everyone else I need to consider how to balance political activities with earning a living."
With a first class degree in politics he has been working as an occasional lecturer in economic and politics and hopes to do more in that field. However, he is keen to stress: "I'm not bowing out of politics; I will still be an active member of the party both nationally and locally."
We first came across Mr Ramsay at the age of 16 - delivering leaflets for the Green Party in Norwich. At 17 he was being interviewed on political programmes promoting the party's cause and expressing the frustration that he was too young to stand as a councillor.
Youngest councillor
In 2003 at the age of 21 he became the Green Party's youngest councillor as he joined Norwich City Council. A tireless campaigner, he impressed the party leadership and it was no surprise that he was elected unopposed as deputy party leader.
But the Green Party constitution requires the party leader and deputy to stand for re-election every two years. Mr Ramsay and Caroline Lucas did that last time but this time both have decided to move aside - even though both have become well known faces.
"I think a lot of people are sceptical of politics when you have leaders who hang on for ever," says Mr Ramsay. "I decided not to stand again and so did Caroline but it's good that every two years party members have a chance to say if they think you're doing a good job."
"Caroline doesn't just want the Green Party to be associated with just her, she wants other people to have the chance to come forward."
There is speculation among party members that Mr Ramsay will put himself forward to fight Norwich South at the next general election. When he stood in the seat in 2010 he doubled the Green vote. He refuses to be drawn on this but says that after Brighton, "Norwich is our next best prospect".
It seems very likely that we haven't heard the last of Adrian Ramsay.