Shafilea Ahmed's mother in conviction appeal bid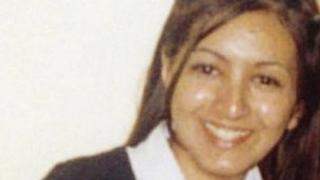 A mother jailed for life for murdering her daughter is seeking permission to appeal against her conviction, the CPS has said.
Farzana Ahmed and her husband Iftikhar were found guilty of murdering Shafilea in July.
The 17-year-old went missing from her home in Warrington, Cheshire, in 2003 and her body was found in the River Kent in Cumbria six months later.
The Court of Appeal has received an appeal application, the CPS said.
The grounds for appeal have not been disclosed.
Mr and Mrs Ahmed were each sentenced to serve a minimum of 25 years in prison following a three-month trial at Chester Crown Court.
The prosecution claimed she was murdered by her parents because they believed she brought shame on the family with her Western lifestyle.
'Just finish it'
After her body was found, police became convinced her parents were responsible for her death, but found no evidence until Shafilea's younger sister, Alesha Ahmed, was arrested in connection with an armed robbery at the family home in August 2010.
In a subsequent police interview she said she had seen her parents kill her sister seven years earlier.
During the trial, she told the court her parents pushed Shafilea on to the settee in their house and she heard her mother say "just finish it here".
She said the parents then forced a plastic bag into the teenager's mouth and killed her in front of their other children.
Taxi driver Mr Ahmed had claimed Shafilea ran away from home in the middle of the night and he never saw her again.
Mrs Ahmed had denied claims that they had attacked Shafilea, but during the trial she changed her account, claiming she saw her husband beat their daughter on the night of the murder.
She also claimed he had threatened to do the same to her and their other children if she ever asked him what happened to Shafilea.