Police and crime commissioner election: Gloucestershire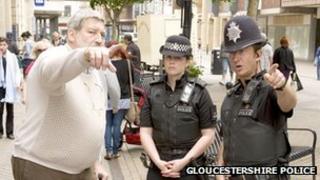 On 15 November, 37 police and crime commissioners will be elected in England, along with four in Wales.
The PCCs, as they will be known, will be tasked with scrutinising their force and holding it to account. They will also be able to hire and dismiss the chief constable and set the force's budget.
The commissioners will be paid and are supposed to empower local people into having a say on how crime is tackled in their area.
Nominations for candidates in Gloucestershire have now officially closed.
BBC News has taken a look at each of the police forces ahead of the elections.
Gloucestershire Police
Gloucestershire has a population of about 594,000 across 1,045 sq miles, which takes in the city of Gloucester and towns such as Cheltenham and Stroud.
The policing districts are divided up into six areas; Cheltenham, Cotswold, Forest of Dean, Gloucester, Stroud and Tewkesbury.
The South Gloucestershire Council area comes under Avon and Somerset police force.
Like neighbouring Avon and Somerset, Gloucestershire's population is largely rural where over 50% of the land has been designated as Areas of Outstanding Natural Beauty (AONB).
In terms of policing priorities, the main objective for the force in 2012 was to "keep people safe from harm and to inspire the highest levels of public confidence in us, their local police".
This meant aiming to "listen, understand, and effectively respond to the issues that matter to our communities and staff" and to "sustain a visible presence in communities".
The police force is accountable to Gloucestershire Police Authority, which sets the police budget, agrees on a policing plan and investigates police complaints.
In the past, senior officers have spoken out against spending cuts and the police authority's decision to freeze its share of the council tax bill.
Specific projects in Gloucestershire have included trying to reduce the 25% injury rate among 17-24-year-old drivers and tackling anti-social behaviour in local communities.
The police force also works with Avon and Somerset police on Operation Zephyr, which tackles serious and organised crime.
Funding
In 2011-12 the police budget was set at £106.4m, of which £44.9m came from its share of the council tax bill.
The final settlement also included a one-off payment from the government of £1.3m for freezing its share of the council tax bill, which which prompted concern from senior officers in January.
The government's Comprehensive Spending Review over 2011-12 to 2014-15 will see the force having to make savings of £18m.
Since May 2011, 13 police stations have been closed down as part of the savings plans as well as staff cuts of 200 police officers.
Crime and performance
Violent crime remains low in Gloucestershire - where the annual average of homicides over the past five years stands at 13.
Between 2011-12 the number of recorded crimes in the county was 34,602. This compares with 36,044 during the same period in 2010-11, a reduction of 4%.
However, crimes in domestic burglary, thefts from motor vehicles and drug offences had increased.
Police were told of 28,618 incidents of anti-social behaviour across the county during 2011-12.
During the April 2012 Police Crime Survey for Gloucestershire, 61.9% of respondents "agreed" and "strongly agreed" that the police and local council were dealing with the anti-social behaviour and crime issues that mattered in their local area.