Police and crime commissioner elections: North Yorkshire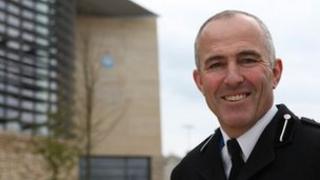 On 15 November 37 police and crime commissioners will be elected in England along with four in Wales.
The PCCs, as they will be known, will be tasked with scrutinising their force and holding it to account. They will also be able to hire and dismiss the chief constable and set the force's budget.
The commissioners will be paid and are supposed to empower local people into having a say on how crime is tackled in their area.
Nominations for candidates in North Yorkshire have now officially closed.
BBC News has taken a look at each of the police forces ahead of the elections.
North Yorkshire Police
North Yorkshire Police is the largest single county force in England with a population of some 800,000 people.
It covers an area of 3,200 sq miles; 45 miles of that is coastline, and 40% has within it the National Parks of the Yorkshire Dales and North Yorkshire Moors.
The area includes Catterick Garrison, the largest military garrison in Europe, and the area hosts United States service personnel at Menwith Hill as well as Royal Air Force staff at Fylingdales.
Tim Madgwick is the force's temporary chief constable following the departure of Grahame Maxwell, whose request to have his fixed-term contract renewed was rejected by the police authority.
Mr Madgwick is supported by a temporary deputy chief constable, an assistant chief constable and a chief officer.
The force has 1455 police officers, 178 support officers and 989 police staff.
Responsibility for policing is shared between the Home Secretary, the chief constable and North Yorkshire Police Authority, whose chairman is Jane Kenyon.
Funding
North Yorkshire Police Authority has set a budget of £143,979m for 2012/13 compared with £154,335m for 2011/12.
The figure is based on a freeze on the police council tax precept, meaning the current Band D council tax for policing in North Yorkshire is £204.55 per year, or £3.93 a week.
The force has already cut 323 civilian and 65 officer posts as part of plans to save £28m over four years because of government spending cuts.
Crime and performance
Home Office statistics for 2011-2012 showed an overall decrease in crime in North Yorkshire.
The figures show that overall recorded crime dropped by 9%.
Robbery had reduced by 26%, burglary was down 10% and criminal damage had fallen by 13%.
The data showed that sexual offences had fallen by 7% and drug offences were up 6%.
Meanwhile, Her Majesty's Inspector of Constabulary said in a report published in July that crime was decreasing in North Yorkshire at a rate in line with the rest of England and Wales as a whole.
The report stated 87% of victims in the county were satisfied with the service from North Yorkshire Police, which is higher than the national figure.