Police and crime commissioner elections: Warwickshire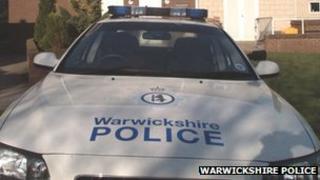 On 15 November 37 police and crime commissioners will be elected in England along with four in Wales.
The PCCs, as they will be known, will be tasked with scrutinising their force and holding it to account. They will also be able to hire and dismiss the chief constable and set the force's budget.
The commissioners will be paid and are supposed to empower local people into having a say on how crime is tackled in their area.
Nominations for candidates in Warwickshire have now officially closed.
BBC News has taken a look at each of the police forces ahead of the elections.
Warwickshire Police
Policing in Warwickshire is divided into five districts/boroughs which are in line with the local district or borough council areas: North Warwickshire, Nuneaton and Bedworth, Rugby, Stratford-on-Avon and Warwick.
The county covers an area of 736 sq miles (1,906 sq km). It has an estimated population of 530,700, according to a 2008 estimate, the police authority said.
It added that despite the focus of population within the main towns of the county, a "significant part" of Warwickshire was rural in nature.
The authority has agreed a "strategic alliance" with West Mercia Police Authority.
It emerged in June that the two forces are to cut 650 jobs to save £30m from their budgets.
The authority said policing priorities for 2012/13 included reducing the number of: victims of serious violence, victims of robbery, homes burgled, vehicle crimes committed and road traffic collisions that result in someone being killed or seriously injured.
Priorities for 2012/13 also included improving how satisfied victims of hate crime felt with how an offence had been dealt with by the police and increasing the number of volunteers.
Funding
The police authority's budget requirement of £89.2m is funded partly through government grants and business rates and partly by direct precept on Warwickshire council tax payers.
In 2012/13, central government funding accounts for 59% of the force's total resources.
A Warwickshire County Council and police authority document stated a Band D household pays £180.96 annually for the force through their council tax.
By comparison a budget report in February by the West Mercia chief constable and police authority treasurer, stated a Band D household pays £178.72.
The job losses that emerged in June, in which the two forces are to cut 650 jobs, will be implemented over the next four years and will see about 90 officers made redundant.
By April 2016 the number of staff across both forces will be reduced from 5,400 to 4,750. The number of PCs will be cut from 2,300 to 2,210. The two forces will pool resources including support services like IT and HR.
The Warwickshire force faces savings of more than £10m by the end of the 2015-16 financial year.
Crime and performance
Warwickshire Police Authority said 33,891 crimes had been committed during 2011/12, which equated to 92.6 a day, which represented an overall rise in crime of 3.5% [1,133 offences].
Anti-social behaviour fell by 14.9% [3,681 incidents] during 2011/12.
The authority said 2011/12 was a challenging year, in which a new policing model was introduced, involving the redeployment of the whole workforce.
It added that this change coupled with reductions in staff was "always going to be a challenge i.e. we had 140 less police constables and 216 less police staff".
The authority said crime was on a downward trend if a "longer term view" was taken and it had seen a reduction from 124 crimes a day in 2006 to 93.