River storm floods on Stour and Avon investigated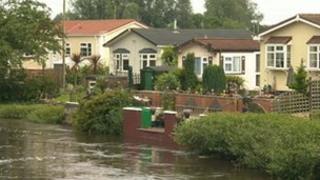 The impact of flooding on Hampshire and Dorset waterways is to be investigated.
A new £1m study into the rivers Avon and Stour and Christchurch Harbour will look at how heavy rainfall can wash soil nutrients into waterways.
Researchers from Southampton, Portsmouth and East Anglia universities will examine storm pollution in the rivers over a year-long period.
Professor Duncan Purdie said they would use "state of the art continuous monitoring techniques" on the rivers.
Runoff from fields and sewers following storms can stimulate the growth of excess algae that depletes oxygen from the water, causing fish deaths and poisonous algal species, known as red tides.
Prof Purdie said: "Christchurch Harbour, which has the advantage of being an enclosed estuary with two of the south's major rivers, the Stour and Hampshire Avon flowing into it and with one narrow connection to coastal waters of the English Channel."
He added most existing monitoring is too far spaced apart to measure the impact of storms.
The study is being funded by the Natural Environmental Research Council.