Eton Dorney swans back on lake after Paralympic rowing finishes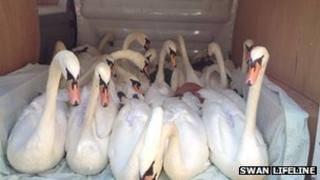 Swans have been released back onto the lake at Eton Dorney following the end of the Olympic and Paralympic rowing events.
Wendy Hermon, from charity Swan Lifeline, said 36 swans were released on the lake at the complex on the Berkshire-Buckinghamshire border.
The swans were looked after at the charity's centre on Cuckoo Weir Island.
Ms Hermon said: "After a few months of feeding they've gone out a lot fatter than they came in."
"We couldn't wait to get them back on there and in their natural environment," she added.
"I think they're enjoying washing and bathing in the sun."