Christine Emmett is Conservative candidate for Corby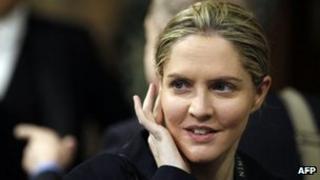 If there was a perception in Corby that outgoing MP Louise Mensch wasn't around very much, then the new candidates hope not to repeat the mistake.
The main candidates in the forthcoming by-election have been going out of their way to stress their local connections (even though none of them actually live in the constituency) and to promise that if they're elected things will be different.
"I intend to be in every village and town and make sure people see me in the shops," declares Christine Emmett, the newly chosen Conservative candidate.
"I've spent years in this town championing local causes and issues that really matter to people," says Labour's Andy Sawford.
"I don't live in Corby at the moment but I will as soon as I'm elected," says Jill Hope for the Liberal Democrats.
But this by-election will be about much more than who can be seen the most in Corby; everyone is agreed that the one big issue is the economy.
This will be a significant test of government policy at the polls, so there's a lot riding on who wins this seat.
Corby has nearly always been a marginal seat. It was Conservative in the 1980s and 1990s but swung to Labour in the landslide of 1997 (giving Phil Hope a majority of 11,800). Support gradually shifted back to the Tories and Louise Mensch took it in 2010 with a majority of just under 2,000.
Unemployment stands at 4.4%, which is below the national average and better than some other parts of Northamptonshire. There is growth in the town, just this weekend a survey found that 85 new companies set up in Corby in the last quarter.
Yet the number out of work has increased by 22% in the last year and the increase in NEETS (those not in employment, education or training) rose more quickly here than anywhere else in the country.
Labour's summer campaign
As the only party with a candidate in place before Ms Mensch resigned, Labour has been campaigning hard throughout the summer.
Its candidate, Andy Sawford (son of former Kettering MP Phil Sawford) describes himself as a political campaigner. He used to run the Local Government Information Unit think tank.
He says getting people back to work is the main priority and backs his party's proposal to cut VAT and tax the banks; although he accepts that many people still blame Labour for the current economic crisis.
"The big task for me is to win people's trust, to show them that I have the right ideas for the future of the economy. People want to look forward and see what we can do to get people back to work.
"We need to get our public services improving to help people get back to work, so they can contribute to our local community and our local economy."
Campaign slip up
The Conservative campaign did not get off to the best of starts when the press release announcing Christine Emmett's appointment referred to the constituency as "Corby and North East Hants".
Ms Emmett - a businesswoman who runs a holiday lettings business after working for Marks and Spencer and the Channel Tunnel - accepts this will not be an easy election to fight.
"Yes things are tough but we're doing the right thing," she says. "We're cutting the deficit, we're keeping interest rates down, so people have low mortgages but we need to work on investment and get more people to invest in Corby."
On the issue of jobs she believes the right training is key: "We need to question if we're getting our youth trained for the right jobs. Last year we got 100 people coming out of Corby colleges with hair dressing qualifications but there were only 6 vacancies. It's really important people train for the jobs we have here."
Lib Dem fight
The Liberal Democrats have never done well in Corby but Jill Hope thinks that could change. She describes herself as a campaigner against unfairness; she once led a walk-out while at school.
"If people are angry and want something done, they come to me and I'm there with the placards, I like driving things forward, I like making things change," she says.
Also of interest in this by-election will be the performance of UKIP candidate Margot Parker. She believes many frustrated Conservative voters are changing loyalties.
Her party surprised everyone when it came second in last year's Barnsley by-election; the person who masterminded that win is Lisa Duffy, the Mayor of Ramsay in Cambridgeshire, who's been put in charge of this campaign.
And then there will be the handful of independent candidates; some taking part just for fun, others because they feel strongly about local issues. They too could have an impact on the final result here.
The people of Corby will have a lot to think about before they cast their votes and when they do, the whole nation will be watching.