Police and crime commissioner elections: Avon and Somerset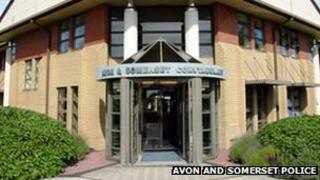 On 15 November 37 police and crime commissioners will be elected in England along with four in Wales.
The PCCs, as they will be known, will be tasked with scrutinising their force and holding it to account. They will also be able to hire and dismiss the chief constable and set the force's budget.
The commissioners will be paid and are supposed to empower local people into having a say on how crime is tackled in their area.
Nominations for candidates in Avon and Somerset have now officially closed.
BBC News has taken a look at each of the police forces ahead of the elections.
Avon and Somerset Police
Five local authority areas are covered by the police force; Bristol City, South Gloucestershire, Bath and North East Somerset, North Somerset and Somerset.
Avon and Somerset covers 1,855 sq miles and has a population of about 1.6m people.
The police force area can be divided into two different areas; the urban populations of Bristol and Bath, and the largely rural county of Somerset which has popular tourist destinations such as Weston-super-Mare, Minehead and Exmoor.
Avon and Somerset Police Authority oversees the police budget, policing priorities and complaints about the force, and holds public consultations to find out what people want from their police.
The two strategic priorities set by the force and police authority for 2012/13 were "to respond when you need us" and "investigate crime and protect you from criminals".
Avon and Somerset has worked on a number of joint ventures such as Operation Zephyr, which aims to combat serious and organised crime and Brunel, a collaboration which started in 2011 with Wiltshire Police into major crime organisation.
As part of its strategic aims, the force has said it will focus on developing its Integrated Offender Management programme, which involves better managing of offenders who cause the most damage to local communities.
In 2008, the police force signed up to Southwest One, a partnership with IBM, Somerset County Council and Taunton Deane Borough Council.
Southwest One now carries out the force's back office work and has installed new software for its finance and HR departments.
The police authority has said this contract has saved £5.7m in the three years to March 2012.
The police force has also set up a partnership to deliver a forensic sciences contract for 14 police forces in an effort to improve efficiency and save money.
Funding
For 2012/13 the force was given a budget of £275m, compared with £283m in 2011/12.
The council tax precept for 2012/13 was £93m, and the police force also received a one-off government grant of £5m for freezing its share of the council tax.
But the police authority has said it still has to save a further £12m during 2012/13.
The government's Comprehensive Spending Review from 2011/12 to 2014/15 will see the force lose a total of £40m in revenue funding.
It plans to cut 200 members of civilian staff and shed 40 police officer posts, and has imposed a recruitment freeze as part of its savings plan.
Crime and performance
Recorded crime in Avon and Somerset is at an all-time low and detection rates are the highest on record, according to the police authority.
The annual performance review in May 2012 showed that public confidence in the police force had also improved.
A total of 67.2% of residents believe the force does a "good or excellent job", which has placed it seventh in national tables, up from 18th the previous year.
Crimes of burglary and car theft have fallen, and detection rates have also improved. In terms of the national tables for overall detection rates, the police force is ranked in 17th position.