Couple found dead on Norfolk Broads were on boat holiday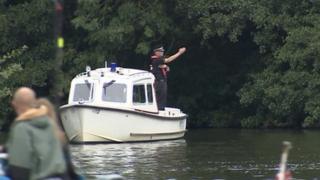 Two people found dead in a river in Norfolk were on a boating holiday from their home in Surrey, police have said.
The bodies of the man and woman, who were in their 40s, were found between Salhouse Broad and Wroxham Broad after a search by divers.
The woman's 13-year-old daughter, who was found alone on the hire boat, is being cared for by relatives.
The boat was found on Saturday tied to a tree, close to Salhouse Little Broad, after police were called.
They were alerted because it had not been returned to its boatyard as arranged.
Norfolk Police have confirmed that it was the girl's mother - and the mother's partner - who were found dead in the water near where the boat was moored.
Officers said they were not looking for anyone else in connection with the deaths.
Police also said the teenager had been told about the deaths of her mother and her partner.
Results of post-mortem examinations carried out on Monday at the James Paget Hospital in Gorleston are expected to be released later.
The craft was taken to Le Boat boatyard in Horning where it continues to be examined by police.
The river was re-opened to boating traffic on Sunday night but the place where the hire boat was discovered remains sealed off.
Det Sup Jes Fry said: "Our main consideration is the welfare of the 13-year-old girl.
"I cannot speculate on the circumstances surrounding the deaths before I have received the results of the post-mortem examinations.
"Initial investigations confirm that we are not looking for anyone else in connection with the incident."