Restored Wey and Arun Canal opens to boats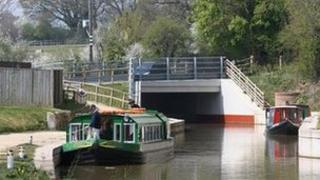 A newly-restored section of canal in Surrey has been opened for the first time in more than 140 years.
The Wey and Arun Canal Trust will start running trips from Alford on Saturday along the edge of Dunsfold Park near the Three Compasses pub.
The charitable trust already runs trips at Loxwood in West Sussex.
The 23-mile (37km) canal closed in 1871 because of competition from the railways, and its restoration has been under way since the 1970s.
Sally Schupke, chairman of the Wey and Arun Canal Trust, said: "Our volunteers have been working throughout the summer.
"We have a proper tow path and everything has been cleared. This looks like a canal."
The canal was built as a direct route from the south coast to London.
Construction of the canal took place between 1813 and 1816 to link the Rivers Wey and Arun, and runs through Shalford, Bramley, Cranleigh and Dunsfold in Surrey, and Loxwood, Wisborough Green and Billingshurst in West Sussex.
A 12-seater boat called the John Smallpeice has been restored by the trust for the trips in Surrey, starting on Saturday.
Once fully restored, the trust hopes to again link Littlehampton on the south coast with the River Thames via the River Wey.