Public inquiry over incinerator plan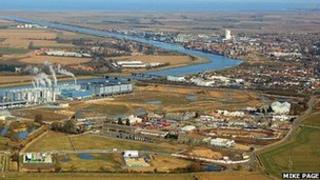 A ceasefire has been called in the two year battle over the plans for a waste incinerator in King's Lynn.
The Communities Secretary Eric Pickles has ordered a public inquiry into the £500 million scheme.
It will now be up to him rather than local councillors to decide if it should go ahead.
"We will now get a fair hearing which is what we've always wanted," says the MP for North West Norfolk, Henry Bellingham.
"Everyone will have a chance to put over their point of view."
Contentious plans
More than 65,000 people voted against the plans in a referendum and 6,000 individuals wrote letters to the Secretary of State complaining.
"DCLG has had more letters about this than any other application," says the neighbouring MP for South West Norfolk, Elizabeth Truss.
"This was clearly a contentious issue and it's right the plan was called in."
What worried Norfolk's MPs and upset campaigners was a feeling that they were not being listened to.
"It was a farce," says Mr Bellingham.
He described how, at the planning meeting: "Objectors were treated with contempt, people were sneered and jeered at by county councillors."
"You cannot force a project of this size through when so many people are against it," he added.
"You can't defy local democracy."
Alternative technologies
The County Council, which insists that everyone has had a fair hearing, has also welcomed the decision to call in the plans.
"This has been a controversial project and people will welcome the extra layer of scrutiny that the Secretary of State will give," says Councillor Bill Borrett, the Cabinet member for the environment and waste.
He still believes the incinerator, which would turn waste into energy, is a good idea.
"The purpose of this project is to benefit the people of Norfolk. We are trying to save £8 million a year to deal with rubbish which won't harm the environment and will save the County Council money."
"We're not in this to upset or inconvenience people in any way."
Calling a public inquiry will result in a significant delay, which could cost the council money in penalty clauses.
Mr Bellingham is already using the delay to call on the council to think again: "Incineration is yesterday's technology. It's going out of fashion on the continent and in the USA.
"There are modern alternative technologies available which don't damage people's health.
"The county council should stop flogging a dead horse, it should drop the plans, admit it made a mistake and go back to the drawing board."
Conservatives split
But Bill Borrett disagrees, pointing out that the plans have received the backing of the Treasury and the Environment Agency.
"When I first heard about it sounded like a terrible project as well but when you look into it, you will see that there are similar plants up and running and there are no local outcries."
As well as upsetting local people, these plans have divided the Conservative party in Norfolk.
The day after Mr Pickles' decision, the Conservative leader, Derrick Murphy, faced a vote of no confidence from councillors in his own party.
He easily survived it but it's a sign of how much bad blood has been caused over this issue.
The ceasefire may provide enough time to heal a few wounds.