Children 'worried about money' and want finance lessons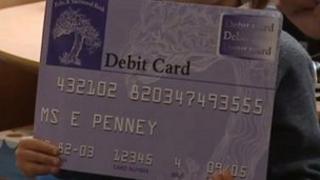 Schoolchildren across the UK are worried about money and want personal finance lessons, research suggests.
A survey of 1,001 young people aged seven to 16 found less than half (43%) worried about personal finance.
The Department for Education says it is considering making finance lessons mandatory as part of a wider review.
The study was commissioned by the charities National Children's Bureau (NCB) and Personal Finance Education Group (PFEG).
It also found nearly one in eight (12%) had borrowed money from family or friends they could not afford to repay.
Of those surveyed, 84% felt their school did not do enough to teach them about money matters and 96% believed that every school pupil should be taught to manage their finances.
Review of curriculum
The survey was conducted for the charities by Panelbase, a market research company, which asked a panel of young people to complete the survey online.
In Northern Ireland, lessons in personal finance are compulsory for all schoolchildren, while in Scotland financial education is something all schools have been required to address since September 2008.
Financial education is embedded in the revised school curriculum, introduced in maintained schools in Wales from September 2008.
At the moment there is no statutory requirement to teach financial education in England although the national curriculum is currently being reviewed with new plans for all subjects to be introduced in September 2014.
Ministers have said that financial education will be considered as part of their review.
A Department for Education spokesperson said: "It is vital that we help young people understand the world of work and how to manage money.
"All schools - both primary and secondary - are encouraged to teach this as part of their broader programme of personal, social, health and economic (PSHE) education.
"We are currently reviewing PSHE to establish if it should be mandatory to teach certain subjects. We are also looking at how teaching can be improved."
They added they would set out next steps in due course.
A survey conducted by the All Party Parliamentary Group on Financial Education for Young People found that 55% of secondary schools and 31% of primary schools teach financial education in some way, although PFEG is campaigning for financial education to be taught in every school.
The research by the charities has been released to mark the launch of Our Money, Our Future, a toolkit developed by young people to help children campaign for personal finance education to be taught in their school.
A group of 12 young people from across the UK from Young NCB's personal financial education advisory group made their case for financial education in schools directly to MPs at a launch event in Parliament earlier on Tuesday.
Conservative MP Justin Tomlinson, who chairs the All Party Parliamentary Group on Financial Education for Young People, spoke at the launch.
He said: "Personal finance education has never been more important and I am delighted that young people will now have the tools to enable them to launch their own local campaign for this vital life skill to be taught in their school.
"The fact that this toolkit has been developed by young people themselves shows that they can make a real difference - and I am confident that we will soon be seeing the results of their ideas in schools up and down the country."
John Bateman, 15, from Young NCB, said: "It is so important that we are taught at school to look after our finances so that we can manage our money effectively as we enter adulthood, and as teenagers we spend wisely and also save for college or university."
Terri-Ann Watson, 14, also from the charity, said: "We want young people to use this toolkit to help them campaign for good financial education to be taught in their schools and help them gain both confidence and other useful skills, such as teamwork, from using it."
Tracey Bleakley, chief executive of PFEG, said: "It is crucial that we get young people actively involved in the campaign for financial education and it's great to see their enthusiasm and ideas having a real impact on what we are trying to do.
"We have to ensure that young people are given the skills they need to make informed decisions about their finances and the launch of this toolkit means that young people can now take that message to their peers themselves."