Research by university on 'silly season' origins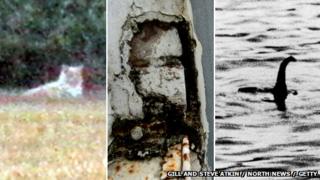 "Lion on the loose" and "Big cat still out there" are just some headlines which splashed across the front page of newspapers following the sighting of a mystery cat in Essex.
However, media stories like this are not that unusual for this time of year.
Misshapen "comedy" vegetables and skateboarding dogs are just some of the stories which have hit the headlines over the years. Especially during the months from July to September.
This period - or "silly season" - is notorious for being a quiet time for journalists as politicians pour out of parliament, footballers swap stadiums for beaches and schools are out for summer.
Many of these stories which would ordinarily be dismissed on a busy news day, hit the headlines when "serious news" is in shortage.
Now an academic from Sheffield Hallam University is researching what silly season is and its origins.
Dr David Clarke, a former newspaper journalist who now works as a media lecturer at the university, said "quirky" stories dated back to the 19th Century.
"It was a time when masses of people began to read newspapers," he said.
"Before 1855 newspapers were taxed, when it was abolished more people began to read them."
Mr Clarke added: "Previously, only the very well-off and educated could afford or read newspapers."
A number of newspapers in archives have been unearthed by Mr Clarke, who has found old clippings of stories, covering reported sightings of mermaids and sea serpents, during a period when shipping was one of the main industries.
'Not much else around'
The academic himself confesses proudly to have contributed to silly season stories, writing about the weird and wonderful.
"Because I had an interest in quirky stories the news editor would always say, 'We've had a sighting of a big cat in Rotherham, let David look at it'."
Mr Clarke added: "Newspapers have spaces to fill. You don't get newspapers which have blank pages so we'd put something in about the latest cat sighting or Jesus being seen in a tea cake."
But silly season is not just reserved for the quiet summer months. Mr Clarke said other periods "when there's not much else around" - such as the week between Christmas and New Year - could see an increase in the number of lighter stories.
"It traditionally always used to be in the summer but with the internet now I've realised that the silly season is all year round," he said.
"The tabloids are particularly good sources for these types of stories."
Examples of headlines to be researched by the academic include The Sun's front page story "Freddie Star Ate My Hamster" in which the British comedian had allegedly put a hamster between two slices of bread and eaten it. Other headlines and stories include "Werewolf seized in Southend" and "Jesus spotted in a baby scan".
'Really spinning' a story
So why are people interested in reading them? One theory is, people enjoy amusement and light-hearted news as an antidote to more serious stories. Plus there is always the possibility that the story could be true.
In the 1980s, Mr Clarke said the Rotherham Star covered a story about a house fire in the town, in which a small painting of a boy emerged unscathed.
This story was later picked up by The Sun newspaper editor Kelvin MacKenzie who led a campaign encouraging people to send in copies of the painting The Crying Boy by Bruno Amadio so a mass bonfire burning copies of the prints could take place.
"These stories can get out of hand," said Mr Clarke.
"It's an example of a national newspaper picking up a local story and really spinning it as best they can."
As part of the research, Mr Clarke is going to look at the origins of stories including the Loch Ness Monster and whether this is an example of story which still remains today.
"Many of these types of stories start off as hoaxes," said Mr Clarke.
"It could be an April 1st [April Fools Day] yarn. If you are somebody who doesn't realise you're having your leg pulled, some people go on to believe there is truth.
"Some of these things actually turn into legends.
"I'd like to go back and see when the first sightings of the Loch Ness Monster took place, it could well have happened during the silly season," said Mr Clarke.
So next time you read a story about the world's tallest human being or a skateboarding pet take a look at the calendar and wonder if it's a "slow news day".