Harlow fire deaths: Mother and children 'wonderful'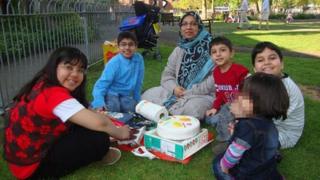 A mother and four children killed in a suspicious Essex house fire were part of a "wonderful family", friends have said.
Dr Sabah Usmani, her sons Muneeb, nine, and Rayyan, six, and daughter Hira, 12, died on 15 October in Harlow at 01:45 BST.
A third son Sohaib, 11,, and daughter Maheen, three, were rescued and taken to hospital, where Sohaib later died.
Dr Abdul Shakoor, their father, "fought hard" to save them, police said.
Maheen remains in a critical condition at a specialist burns unit, while Dr Shakoor is in a stable condition in hospital having suffered severe smoke inhalation.
'Desperate to help'
Gary Beautridge, assistant chief constable of Essex Police, said: "The father of these children was in the property at the time and fought hard to save his family in appalling conditions.
"Despite sustaining smoke inhalation injuries Dr Shakoor is desperate to support the police investigation.
"We believe the answers to this inquiry could lie within the local community of Harlow, who we are encouraging to come forward and speak with us."
As the blaze took hold at the house Ford Focus car was also found on fire in a nearby parking area.
The car belonged to another resident in Barn Mead and was not connected to Dr Shakoor or any member of his family, police said.
'Incredibly intense'
It is understood Dr Shakoor was inside the house when the blaze started but had escaped by the time firefighters arrived.
Chief fire officer David Johnson said the blaze, which started downstairs while the family were asleep upstairs, had developed rapidly, suggesting some kind of fuel may have been used.
He described the fire as "incredibly intense" with temperatures inside reaching 1,000C.
"There were flames coming out of the front and rear of the property and people trapped inside," he said.
"Our crews did everything they possibly could to revive those children.
"We are trying to establish whether it was a deliberate act as it developed exceptionally quickly. The house really is gutted."
'Devastated'
Dr Shakoor arrived in the UK with his family in 2009 from Pakistan. In 2011 they moved to Harlow where he took up a post at the Princess Alexandra Hospital.
Friend of the family Safia Anwar, 38, said: "They were a wonderful family. The children were best friends with our own.
"We would see them at mosque and at the school gates. They were just such a lovely family.
"I heard what happened from a friend who lived nearby. It has come as such a shock to us all and it is still sinking in. We are absolutely devastated."
Another friend, Parvez Hamid, 43, said: "Their children were so well behaved and I was always envious that mine weren't the same.
"They were hardworking parents who will be missed.
"The Asian community is very tight knit in this area and we are all in shock."
Dr Shakoor's cousin, Abdul Sattar Ishaqani, spoke to BBC Essex from Karachi, Pakistan, and said the family had been in the UK for four to five years.
"They are a really lovely family," he said.
"They were very interesting, very active, clever, intelligent and happy. A very good family, actually."
'Billowing out'
Sharon Pavey, who has lived in the house next door for 10 years, said the family had only recently moved to the area.
"I saw flames coming out of the back window and dialled 999 but they were already on their way," she said.
"The flames and smoke were billowing out and we could tell it was very serious."
Melanie Walker, chief executive of the Princess Alexandra Hospital where Dr Shakoor works, said: "The hospital is deeply saddened by the tragic circumstances which have occurred.
"Our thoughts are with our colleague and his family at this very difficult time.
"Our staff, many of whom helped deal with this situation, are receiving the support they need."