Barnsley ballerina joins the elite Bolshoi Ballet Academy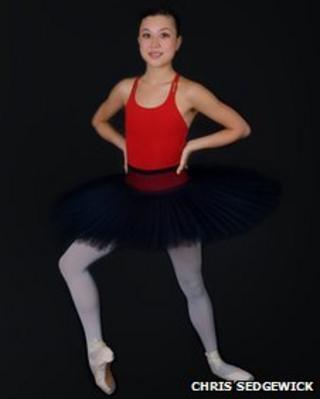 A teenage ballerina from Barnsley is joining the world famous Bolshoi Ballet Academy - only the ninth British dancer to be accepted in its 239 year history.
Tala Lee-Turton, 16, will fly to Russia at the end of the month to start a four-year training programme at the Moscow-based school.
She is the first dancer from Yorkshire to secure a place at the elite academy but her journey to get there has been uncertain.
Mother Sara Turton, a single parent, had three months to raise £15,000 towards the £20,000 costs for her first year.
She will need to find the same amount for each of her daughter's remaining years at the academy.
"In May we had to commit to Tala's place so the pressure was on to find the money.
"I'm a single parent and work full time but I could not find that amount of money myself.
"This was an amazing opportunity for Tala and I have only ever wanted to help her achieve her dream so I knew I had to do everything possible to make it happen."
Cake sales
Ms Turton, a training manager from Wombwell, began to raise the money needed to fund aspects including travel, Tala's health insurance and academy fees.
"It was all about writing letter after letter to try and find sponsorship and donations from businesses, planning events and just constantly thinking of ways I could raise the money.
"We've done everything from bag-packing in supermarkets to cake sales and raffles."
It was a donation from an anonymous benefactor that enabled the target and Tala's dream to be reached.
Ms Turton added: "We have had fantastic support from the community. We've been so fortunate that people have been incredibly generous."
Ms Turton said her daughter would have been "heartbroken" if she had not been able to join the academy.
Tala began dancing at Fearons-Middleton School of Dance in Barnsley at the age of four.
She went on to attend programmes at the Royal Ballet, Northern Ballet and Yorkshire Ballet Scholarship Centre.
For the last five years she has been a boarder at Tring Park School for the Performing Arts in Hertfordshire, after winning a scholarship.
She has been personally coached by the Bristol Russian Ballet School, which is where she discovered her love for the Russian method of training.
The teenager has also performed with both English National Ballet and American Ballet Theatre at the Coliseum in London in performances of Nutcracker and Le Corsaire.
Ms Turton said: "Training to be a ballet dancer is like training to be an elite athlete.
"You have to put the body through a lot and make sacrifices.
"Tala has given up most of her holidays and weekends throughout her life to concentrate on dancing.
"She will be the first girl at the Bolshoi to fly the flag for Yorkshire. I am so proud of her and what she has achieved."
While she is at the academy, Tala will learn Russian and continue the rest of her academic studies.
Afterwards, she could end up dancing anywhere in the world.
The teenager said: "I'm really excited about going.
"It's been hard work to get here and the people who have supported me in the fundraising have been so kind.
"Although this is a high point, being at the Bolshoi doesn't mean I have made it.
"I have so much more to learn and I am hoping after this I can go on to join a company and dance some of the famous roles in ballet."