Potholes which damaged cars prompt council payouts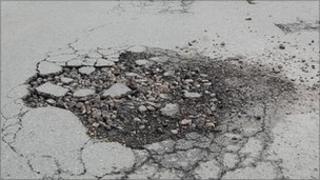 Local authorities in England have paid out hundreds of thousands of pounds to drivers whose cars were damaged by potholes.
According to Britannia Rescue, Surrey County Council awarded £638,239 in compensation between 2010 and 2012, the highest amount.
Nottinghamshire County Council awarded £158,578 and Kent County Council £133,593.
Britannia obtained the figures through Freedom of Information requests.
The claims included damage to wheel rims, punctured tyres and damaged suspension.
Severe weather over the winter and a failure to repair damaged roads has been blamed for the potholes.
However, John Furey, from Surrey County Council, said: "We have done an enormous amount to improve Surrey's roads."
He said more than 40,000 potholes had been filled since May 2011.
Money paid out by local authorities between 2010-2012*
1. Surrey County Council - £638,239
2. Nottinghamshire County Council - £158,578
3. Kent County Council - £133,593
4. Lincolnshire County Council - £119,706
5. Worcestershire County Council - £110,656
6. Essex County Council - £103,507
7. Hertfordshire County Council - £101,630
8. Lancashire County Council - £97,160
9. East Sussex County Council - £86,591
10. Wiltshire County Council - £83,043
* Data provided to Britannia Rescue through the Freedom of Information Act