Body found in search for Dylan Cecil in Burnham-on-Sea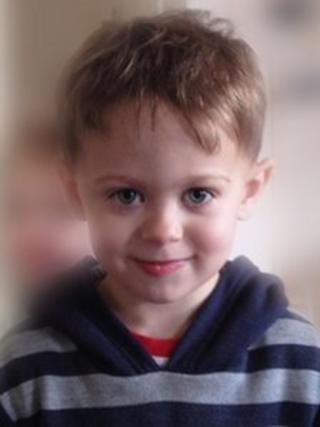 A body has been found by emergency services searching for a four-year-old boy who disappeared after falling into the sea in Somerset.
Dylan Cecil, from Northamptonshire, fell from the jetty at Burnham-on-Sea on Sunday, prompting a large search.
Avon and Somerset Police said the body had not been formally identified but it was believed to be Dylan's.
His family said they were "very grateful it appears Dylan has been returned to allow us to bury our son".
In a statement, they said: "We would like to thank everyone for their help and support during this difficult time [and] would like to express our gratitude for all the messages of sympathy and support from both the local community and wider public across the nation."
Avon and Somerset Police said the body was discovered near the town's yacht club at about 12:30 BST.
Dylan's family, from Kettering, had been staying in Burnham with his grandparents.
He had wanted to get a closer look at the sea when he slipped off the side of the jetty and disappeared beneath the water.
His parents tried to rescue him, but were unable to reach him and had to be pulled from the water.
'Gorgeous boy'
Earlier this week, his mother Rachel McCollum said: "I jumped in straight after him, what more could I do? I knew as soon as I jumped in I wasn't getting him back.
"He was literally not even a metre away from me and he was jumping and slipped basically and I watched him fall in.
"It was a whirlpool. It dragged me, I could feel myself being pulled under."
Speaking of her son, she added that he was "the most gorgeous boy, perfect in every single way".
A search involving the coastguard, police and helicopters was mounted to rescue Dylan but the operation was called off on Monday.
However, volunteers continued to look for him.
A specialist rescue team using sonar equipment and an underwater robot failed to find his body on Wednesday.
The water off Burnham-on-Sea has one of the highest tidal rise and fall ranges in the world, and the shoreline is notorious for its mudflats.
Sedgemoor District Council said it was satisfied all its procedures were followed correctly and that there were many warning signs.
The council said it was carrying out an internal review "to establish all relevant information".