Brighton police homophobic football tweet response 'feeble'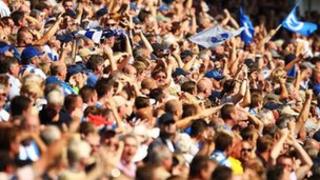 Sussex Police has been criticised over its response to homophobic tweets about Brighton and Hove Albion fans.
The messages appeared on the social networking site Twitter earlier in August and were traced to three teenage Crystal Palace fans in London.
Rather than arrest the boys, aged 15 and 16, the police visited their parents.
Billie Lewis, vice chairman of the Brighton LGBT Community Safety Forum, said the police response was "feeble".
'Puff of smoke'
"A stronger message needs to come from the top," he said.
"The message they've given out at the moment is a pale puff of smoke really - a slap on the wrist is no good."
However, PC Darren Balkham, who monitors football intelligence at Brighton games, said he believes education can be the better option rather than punishment.
"If we use the criminal justice system for everything then it isn't actually an education, it gives people a criminal record," he said.
"I want to go behind why they do it and to try and educate and meet with people and explain how their behaviour affects other people."
Brighton fans are routinely subjected to homophobic chants due to the city's connection with the gay community.