Maltby Colliery coal miners face redundancy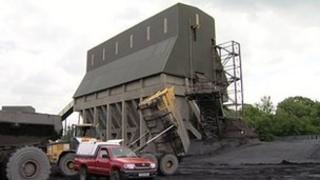 Hundreds of miners working at a deep coal pit in South Yorkshire have been given a 90-day notice of redundancy.
About 540 staff at Maltby Colliery, near Rotherham, have been told of the decision by owner Hargreaves Services.
Last month unusually high levels of water, oil and gas were found at the site and the owners warned about the possible closure of the site.
Miners would "work hard" to ensure Maltby remained open, said a National Union of Mineworkers (NUM) spokesman.
'Stay focused'
A company spokesman said the firm was awaiting geological reports.
Mike O'Sullivan, from Hargreaves Services, said: "We have got reports that will be coming to us in a number of weeks which will advise us on all the various risk profiles associated with the geological problems and it's only when our board is in full possession of all the data that any decision will be properly made.
"We do not want, nor cannot have, any speculation at this stage."
Mr O'Sullivan said consultation with all the relevant unions would be "standard procedure".
He also confirmed that potential redundancies applied to all staff at Maltby and he said the number, he believed, was "about 540".
Dave Price, NUM branch secretary at Maltby, said he was optimistic the geological problems at the site could be solved.
Miners would make the pit "as difficult as possible for these people to shut", said Mr Price.
"They will work hard to try and make it stay open. That's the message to the men - to make sure we stay upbeat and stay focused," he said.
Speaking at the end of his shift, one miner said he was "gutted" about the prospect of losing his job.
Maltby had "never looked so close to shutting before", he said.
However, while there was still a chance the pit would remain open, he said: "We're going to try and grab it."
'Absolutely gutted'
Rother Valley Labour MP Kevin Barron, who worked at Maltby for 18 years, said it was "not the end yet" for the colliery.
Mr Barron said he hoped the geological problems at the pit could be solved and that mining could continue there.
A spokesman for Rotherham Borough Council said the authority was disappointed to hear that redundancy notices had been issued at Maltby.
The council hoped Hargreaves Services would find "a positive way forward" to avoid any job losses, the spokesman said.
However, if redundancies did go ahead, the council would do all it could to support the company and its workers, he added.
Chairman of Maltby Town Council John Carrat said he was shocked at the announcement.
"I'm absolutely gutted. I've heard this news and I can't believe they're going to close the colliery.
"When Hargreaves had a similar problem three years ago they had faith in the workforce to get through, and since Hargreaves took over at Maltby Colliery they've made a profit every year.
"Last year they made £34m worth of profit, so I think it's time Hargreaves gave the workforce down at Maltby Colliery some support."