Eastbourne preacher 'told woman not to report abuse'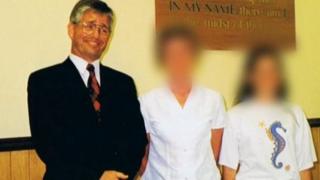 An evangelist Christian preacher from East Sussex urged a victim of sexual abuse not to report the man responsible to the police, the BBC has learned.
Ian Jackson told Lina Barnes he would not support her if she reported that Gospel Hall Brethren preacher Allan Cundick assaulted her at the age of 12.
Mr Jackson, from Eastbourne, said he was only concerned for her progress.
But Ms Barnes, 33, who sought advice from him last year, said he wanted to protect the Church.
Cundick, from the Woking area of Surrey, received a police caution in June 2011 and was placed on the sex offenders register for two years.
'Be merciful'
Ms Barnes, who has waived her anonymity, said: "I'd confided a lot in Ian Jackson about what I had suffered and here was this man now telling me that I just had to be merciful to my abuser, not to involve the police, and it just caused a lot of hurt, a lot of heartache."
She added: "I believe he [Mr Jackson] didn't want it getting out."
Ms Barnes added: "In his email, he said to me it was important that Christians keep the testimony of the Church and therefore protect the institution."
Last year, Ms Barnes told Mr Jackson she planned to report her abuser to the police.
But in an email on 24 May 2011, Mr Jackson wrote to her: "I am not prepared to give you any support in relation to the involvement of the police and court proceedings.
"I think it is a wrong decision that you have made."
He said: "There is a better way. 'Blessed are the merciful: for they shall obtain mercy.'"
Mr Jackson added: "In a day when every opportunity is being taken by the enemies of the gospel to deride it, it would in my view be very regrettable for dirty linen to be in the public arena.
"I urge you to have regard to testimony."
'Good faith'
Mr Jackson, who travels the country preaching in gospel halls and has given sermons at Marine Hall in Eastbourne, said he and his wife believed Ms Barnes approached them purely on a personal basis and said neither of them held any position or office in any church.
He said: "We have no experience of dealing with matters of sexual abuse, as we made plain to Lina at the outset. We have at all times acted in good faith."
He added: "Our remit was primarily Lina's own personal progress. We have absolutely no sympathy whatsoever for offences of this nature - which, whatever their degree of seriousness, we find repulsive - neither do we believe that they should be hushed up."
Simon Bass, from the Churches' Child Protection Advisory Service, said: "To use scripture as a means of saying we should keep this in house and we should not report this to the authorities again - it's quite incredulous to even think that somebody would do that.
"It's totally against what is good safeguarding practice."
In the Cundick case, Surrey Police confirmed a 75-year-old man received a police caution last year following an investigation into a report of an indecent assault which happened in the Woking area in the 1990s.
A statement from the force said the man was also required to register as a sex offender and was disqualified from working with children.
It added: "Allegations made against any individuals will be investigated thoroughly, whether they are current or historic, and we encourage anyone who has concerns about potential sexual abuse to contact us."