How nose art and pin-ups boosted WWII USAAF troops' morale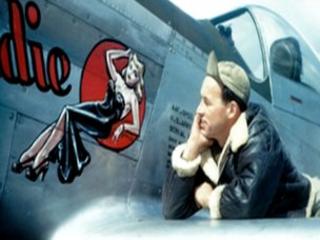 In the heat of battle, high over enemy lines, America's heavy bombers flew into occupied Europe with the images of loved ones emblazoned on the sides of their planes as a reminder of home.
The troops who were based in East Anglia during World War II said their lives became more bearable thanks to the talents of United States Army Air Forces (USAAF) artists who created highly personalised art for the nose cones of their aeroplanes.
Don Allen was a nose artist and crew chief with the Fourth Fighter Group, based at Debden in Essex during the conflict.
"Some of them wanted outright nudes - but I guess my Eagle Scout background gave me little bit of a puritan approach. I guess I tried to keep the necessary parts covered, even though I wanted to make a tease out of it."
There were 200,000 US servicemen of the Eighth Air Force in England during the war. Based mostly in East Anglia the Mighty Eighth, as they were known, consisted of bomber and fighter groups.
This weekend marks the 70th anniversary of the start of the USAAF heavy bombing offensives against Germany in World War II from USAAF Station 110 (RAF Polebrook) in Northamptonshire.
'A bit saucy'
The nose art created by Mr Allen, and the memories of the American servicemen who flew in the planes he painted, have been captured in Nose Art and Pin-Ups - a documentary by former Norfolk-based film-maker Gail Downey.
Capturing the veterans' memories on film became Ms Downey's own mission.
"I was fascinated by the images the crews had chosen and what they meant to these young men facing deadly dangers every day.
"I wanted to make sure their stories of life in East Anglia were preserved for future generations. If I didn't do this there would come a point when nobody was around to tell them, now I've got them recorded forever."
From pin-ups such as Blondie, to girlfriends and wives such as Margie Darling, the aircrafts' nose art has become part of WWII history. The nose art united bomber crews and "gave them an identity".
'Something to pat'
Examples of the work are now displayed at the 100th Bomb Group Memorial Museum at Thorpe Abbotts, near Diss, in south Norfolk.
Museum curator Ron Batley said: "They did it to show it was their plane, their crew and painting their jackets with the same art showed they were a team.
"It gave them an identity and it was something they could do to colour their lives - it was a great morale booster.
"It was frowned upon by the top brass as it broke all the rules, but they tolerated it. You could say some of it was a bit saucy."
Ms Downey spent five weeks travelling across America's East Coast to record the veterans' memories of service in East Anglia.
"These were young men who faced death every day. They told me the artwork personalised their aircraft and gave them something 'to pat' before and after every mission," she said.
"These men, now in their 90s, were once brave young men, who, in their own words, were just doing their job - but what a job they had to do."
Supported by the USA-based Eighth Air Force Historical Society, Nose Art and Pin-Ups will be screened at veterans' reunions across America in October, with plans for it to be screened at independent cinemas throughout East Anglia.