Riots see London and Manchester drop on liveability scale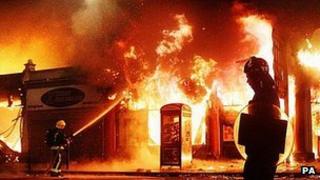 The riots in London and Manchester have caused both cities to drop down a league table of world cities with the best living conditions.
The Economist Intelligence Unit survey ranks 140 cities using factors such as political and social stability, crime, education and access to healthcare.
Manchester dropped nine places to 51st while London fell two places to 55th.
Manchester council leader Sir Richard Leese said he was "very disappointed" by the city's fall in the rankings.
Rioting and looting began in north London on 7 August last year and spread to other areas of the capital.
Similar disturbances followed in Manchester two days later, with unrest also breaking out in other English cities.
Survey editor Jon Copestake said the UK cities had "seen a slight downgrade in liveability due to the mass outbreaks of civil unrest that took place last year".
'Reputational impact'
He added that the 2012 Olympics had provided a "definite boost for London's profile" but not changed its status on the list.
"London was already among the world's most vibrant cities, with plenty to see and do, so [the Olympics] has had no impact on overall lifestyle," he said.
Sir Richard said: "Although pleased that we remain the best place to live in the UK, we are very disappointed that we are still feeling the reputational impact of last year's riots."
He added it was particularly disappointing "considering the way that Manchester people came together after the riots, displaying a level of civic pride that demonstrates why we are consistently highly placed in this type of poll".
'Welcoming smile'
Martine Ainsworth Wells, director of communications at the capital's promotional organisation London & Partners, said the city's hosting of the recent Olympics had shown it to have "a welcoming smile and a wonderful sense of pride".
"London 2012 has provided an opportunity to showcase London not only as the world's leading centre of business, creativity and talent but a great and vibrant place to visit and live," she said.
"We have proved over the last few weeks that not only can we host the world's biggest sporting and cultural event, but we can do so with a welcoming smile and a wonderful sense of pride."
She added that London was also "the most popular European destination for international students and visitors [and] has been voted the best European city to do business in for 26 years".
The global survey ranked Melbourne in Australia as the most liveable city, while Bangladesh's capital Dhaka came bottom of the table.