Hiroshima stone at National Memorial Arboretum marks war deaths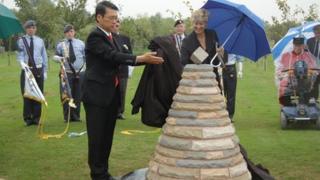 A stone from the ruins of Hiroshima has been unveiled by the Japanese ambassador to the UK at the National Memorial Arboretum in Staffordshire.
It forms the centrepiece of a memorial to the victims of the two atomic bombings on Japan during World War II.
Up to 150 people attended the unveiling ceremony at the arboretum's Anglo-Japan garden.
Among those present were former prisoners of war in the Far East, as well as Japanese veterans.
Former prisoner of war of the Japanese George Reynolds, 94, said: "The monument is important as something to remember all those Japanese and British soldiers who died in fighting.
"The two sides were enemies but not now, and this [memorial] is a good idea to bring people together in harmony, not hate."
The ceremony at the Millennium chapel was a mix of traditional hymns, prayers and Japanese chants.
'Evergreen friendship'
Japanese ambassador Keiichi Hayashi told those present the stone was a "symbol of human suffering during World War II and the ongoing quest for peace".
He said it would "represent the evergreen friendship between Japan and the United Kingdom".
The topmost stone of the memorial was taken from the paving outside Hiroshima City Hall.
The atomic bombs were dropped by US aircraft on the cities of Hiroshima and Nagasaki in August 1945.
Hiroshima was targeted first, on 6 August.
The atomic bomb - the first used in military combat - devastated an area of five square miles (13 sq km) and destroyed more than 60% of the city's buildings.
Including later deaths from radiation, about 140,000 people died.
Three days later, the US launched a second, bigger atomic bomb against the city of Nagasaki, killing more than 70,000 people.
The Soviet Union then declared war against Japan on 8 August and Japan surrendered to the Allies within a week, on 14 August.
The memorial service was held on the anniversary of the end of World War II.
The Alrewas site houses about 50,000 trees and more than 240 memorials.