Property porn - using celebrity to sell a home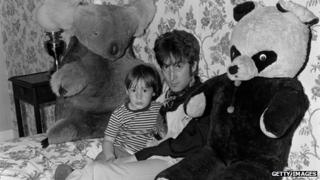 The house in Surrey where John Lennon lived when he wrote the songs for the album Sgt Pepper's Lonely Hearts Club Band is up for sale.
The former Beatle bought the house for £20,000 in 1964 but it is now on the market with a guide price of £15m.
The sale has attracted a flurry of interest in the media with property and music news sites carrying the story.
Miles Shipside, commercial director for Rightmove, said there are two kinds of people who are interested in celebrity properties.
'Cheap tips'
He said: "Those people who can afford these properties are probably looking at the heritage and if it's got some history.
"In previous days people liked a house which had some heritage, which might have a plaque on it to say a famous writer or essayist lived there. This is the modern equivalent of that.
"Then you get the 'property porn' people who like to look at these homes.
"They might get ideas for how to do up their home or do a cheaper version of feature points they have seen."
But he said celebrity appeal was not necessarily about adding value to a property.
"You often don't have long to grab someone's attention so if you've got a beautiful photograph or a nice interior feature or an interesting history that can grab someone's attention.
"But it has to stand on its own two feet as well - it must be in the right location and tastefully decorated."
Anything linked to celebrities always seems to garner attention but it is social media which has helped drive up interest in celebrity homes according to Tom McGuigan, PR and communications manager for Rightmove.
He said: "Celebrity homes do attract a bit more interest online.
"With the growth of social media it has really taken off because it tends to be quite shareable content.
"They are interesting stories so people pick up on them and share them with friends."
Silent estate agents
A number of celebrity homes have been flagged up on the company's blog as they have come onto the market including singer Adele's 10-bedroomed rented mansion in West Sussex, comedian Spike Milligan's old house in West Sussex where he wrote his poems and plays, and Portuguese footballer Cristiano Ronaldo's Cheshire home.
Mr McGuigan said: "We do see a pick up in traffic on properties like that.
"It's human interest that we want to find out about celebrities and their properties.
"Britain has a rich heritage so there are properties all around the country which people find interesting."
But interest from fans is not necessarily wanted by those selling the sort of luxury properties sports, music and film stars once called home.
The press officer for Knight Frank, the agent advertising the former Lennon home, said they had been instructed not to talk to the media or release any photos of the six-bedroom house.
Another agent, Reeds Rains, said they did not have permission to speak about Factory Records co-founder Tony Wilson's former flat for sale in Manchester.
The advert on their website does not even mention the record label owner who was behind some of the Madchester music scene's biggest names including New Order and the Happy Mondays.
Mr Shipside said it was an agent's job to work out if the person asking to view the property can afford it or if they are a fan who wants to see their idol's home.
"The role of an agent is to vet people - they may ask 'can I see the colour of your money?'," he said.