Portas' Pilots: Lessons from the shopping centre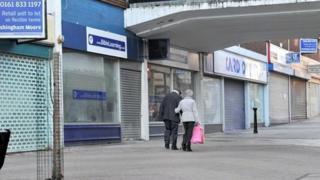 It has come to demonstrate the impact of the recession - empty shops, dropping footfall and disappearing chains painting a bleak picture of England's High Street.
The decline of town centres across the country has sparked a celebrity-backed government scheme and media speculation on whether the High Street can recover from changing shopping habits and low consumer spending.
In England 27 areas have been chosen as Portas' Pilots projects aimed at breathing new life into the traditional centre of their communities.
But the High Street is not the only place people go shopping - can lessons be learnt from a different kind of retail space?
'Brave new world'
Not all towns have High Streets - after World War II The New Towns Act 1946 aimed to address the problem of slums and a shortage of housing by creating new communities.
They were designed with Britain's growing band of car owners in mind with hundreds of car parking spaces next to shopping centres - hailed as the future of retailing.
Telford Shopping Centre opened in Shropshire's new town in 1973 with 23 shops.
David Everington was PA to Lord Northfield, chairman of Telford Development Corporation, which ran the centre until 1990.
He said: "It was a brave new world - they wanted to have a brand new, car friendly town centre with free parking.
"It had to be in the middle (of the housing estates) so everyone could access it equally."
And the design dreamt up in the 1960s has outlasted the quango which created it - of the 160 units the centre now has all but 15 are currently occupied although 12 of those are spoken for.
Matthew Hopkinson, director of the Local Data Company, which researches retail trends, said the 888 shopping centres they monitor are doing well.
He said: "Those like Westfield aren't really shopping centres, they are retail destinations - a town almost in its own right.
"One in three units will be for food, beverage or entertainment. The average dwell time is three hours - people go to Westfield for the day."
But can the High Street learn from the shopping centre?
According to Mr Everington, high streets should build on their "uniqueness" although he feels the biggest problem they face is parking charges.
"The parasitic parking policy of local authorities does not help," he said. "They are being squeezed dry themselves and are looking to get money from anywhere but at the end of the day you can be killing the goose that lays the golden egg."
Tenant meetings
Telford Shopping Centre manager Chris Jones believes the centre's success is down to a proactive approach to filling empty shops - using temporary tenants that can be moved around the centre to take empty spaces and offering lower rates and flexible terms for new businesses.
Empty spaces are brightened up with murals to make them look more appealing to prospective businesses.
He thinks having one team to manage the centre also helps.
"On a high street you can struggle to get everyone to agree," he said.
"We have meetings with all the tenants every quarter and we ask them on a weekly basis how things are going.
"If we spot anyone in bother we go and see them immediately to see if there is anything we can do to help - you can't just put someone in a shop and leave them."
The centre is also coming up with new ways to fill some of the larger empty units vacated by the bigger chain stores which were victims of the recession.
A unit which was previously occupied by JJB Sports is now used as an exhibition space by Galleries Live, a project run by the charity Visual Art Network which supports artists by giving them a platform for their work.
Pauline Barsby, from the charity, said: "We've had thousands of people coming to see it. It means people can come to Telford for culture as well as shopping.
"I think it could work in the High Street too because it would get people in."
And despite the centre being home to big name brands like Next, HMV and H&M it also contains a number of independents.
But why did they choose the centre over the High Street?
Michael Haines runs vintage home accessories shop Victoria James with his wife Ann.
They chose Telford because they felt no existing businesses in the centre were offering products like theirs.
But as well as the niche they had identified there was another reason for choosing Telford - footfall.
"A small town centre wouldn't have the level of footfall we needed to build the business as quickly as we wanted," he said.
Shops in the centre pay a service charge in addition to the rent, business rates and VAT which they would pay on a high street.
But many businesses think the extra charge is worth it for the higher number of shoppers they can expect.
David Robinson, who owns Aroma Coffee Bar, believes what keeps customers coming back is good service - something he thinks independents can use to their advantage.
He said: "You have to offer something more, we have a table service and get to know our clientele - there is no customer service in the big stores."
Another reason for choosing a shopping centre over the High Street is the atmosphere.
Rekesh Menie, who runs MMA, a combat sport equipment and clothing shop, said a bright, friendly atmosphere and proactive management is needed to get people into a shopping location.
He said: "I've never seen anyone trying to get people into a high street."
For Mr Hopkinson, high streets and shopping centres may be different locations but what shops need to do to stay profitable is the same wherever they are.
"Make sure you're damn good at customer service and know your subject," he said.
"Independents can compete if they're good at what they do."