East Midlands ambulance cuts figures 'not yet final'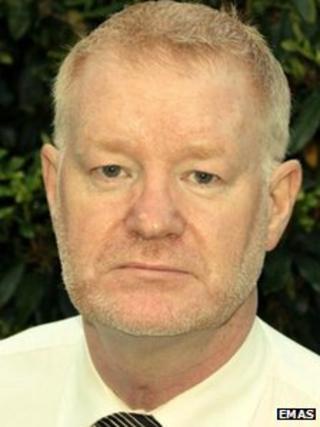 The number of ambulance stations facing closure has not been finalised, according to East Midlands Ambulance Service (Emas).
Chief executive Phil Milligan said it was too early to agree on a number and said he wanted unions to continue discussions.
Emas wants to close 66 stations and replace them with 13 "hub stations".
Final plans on reorganising the service had been expected by the end of July.
More than 3,000 people have signed a Unison petition opposing cuts to "community ambulance stations".
The reorganisation follows a period where Emas has frequently been placed among the worst in the country for response times.
Mr Milligan said: "If it means more hub stations that's ok, provided they work... What's not ok is the unions saying no to change and spending money we haven't got.
"We can only improve by changing things...We're not getting to calls as quickly as we should.
"The public in the East Midlands is telling me they want a better service."
Regional organiser for the GMB union Colin Todd said: "The ambulances will just be sent to the first job that's closest to where they are, they won't end up going to their own communities.
"It's target driven...there will be more ambulances in the larger areas where they can hit the targets. It's much harder to hit targets in a rural area.
"I think this is Emas putting out the worst possible case scenario so it can pull back from it and say we've listened...and then shut some stations."
A full consultation is expected in September.