Devon and Cornwall Police shelved 40% of crime reports last year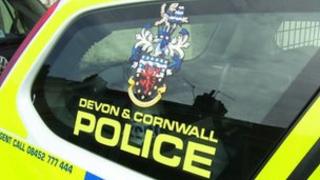 About 40% of crimes reported to a police force in the most recent year were not investigated, figures reveal.
Of 91,532 incidents reported to Devon and Cornwall Police during the 2011/12 financial year, 36,575 were not investigated after initial assessment.
The Police Federation claimed it showed that cuts were affecting policing and the force was failing crime victims.
The force said that all crimes reported to them "received an appropriate level of investigation".
'Balancing books'
The Freedom of Information (FOI) figures showed that investigations shelved by officers included about 11,000 reports of criminal damage, 4,000 thefts from vehicles and 3,700 burglaries.
The rate was a rise from the previous year's figure of about 34% of some 86,000 cases not going forward.
It follows a report by HM Inspectorate of Constabulary in July which claimed the force, along with the Met Police and Lincolnshire, may not be able to provide a proper service due to the cuts it has to make.
Acting Ch Con Sawyer later said the loss of 700 officers may need to be reconsidered and reversed, and admitted it may have cut "too hard and too fast".
Speaking about the FOI figures, Sgt Nigel Rabbitts, chairman of the local Police Federation, which represents rank and file officers, said police were failing victims of crime.
He said: "Clearly, this now appears to be run by accountants rather than police officers.
"If you are a victim of crime in Devon and Cornwall, then you rely on the police force to investigate.
"I am sure it seems now that this is more of a books balancing exercise than a public service."
Savings cuts meant officers were being reduced while demand was not, he added.
Victims informed
Det Ch Supt Russ Middleton, of Devon and Cornwall Police, said it was "not a case of not investigating crimes" and the force did not "screen out any crime reported".
He said: "The level of how far and how complex that investigation becomes will be based on the needs of the victim, and the merits of the allegation."
The force, which has an annual budget of about £255m, is attempting to save £51m over four years as part of austerity measures.
This will see the number of officers dropping from 3,500 in March 2010 to about 2,800 in March 2015.
Earlier this month, Acting Ch Con Sawyer said the loss of these officers may need to be reconsidered and reversed.
The force said assessments into whether investigations could go forward were conducted by staff who "looked at each crime to ensure that all investigative opportunities had been explored and if further investigation is required".
It added that "this is not to indicate that there will be no subsequent investigation if further information comes available".
It also said when there was little potential for an investigation, "victims will be informed at the earliest opportunity, offered crime prevention advice and the services of Victim Support".
About 19% of all reported crime was dealt with in this way, Det Ch Supt Middleton said.
He added: "Many crimes are detected on the first point of contact - for example when a crime is dealt with by way of a penalty notice issued to the offender, and do not need a detailed secondary investigation.
"This would also include, for example, a person caught in possession of drugs for personal use or certain types of shoplifting offences."