London 2012: Birmingham Big Screen crowd captured on canvas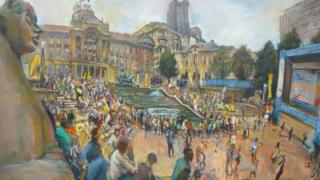 As crowds gathered in Birmingham to soak up the spectacle of the Olympics on the Big Screen, an artist stood in the corner of Victoria Square quietly observing them.
Looking for an "iconic Birmingham scene" Rob Pointon found the square perfect for his needs.
He has spent more than six hours a day painting a picture that captures the "vibrancy" of the Olympics in the city.
'Flags everywhere'
Mr Pointon, 30, from Stoke-on-Trent, said: "When the weather's great, it's a marvellous, relaxed, comfortable space to be... Everybody's talking to one another.
"The crowd changed completely with the run-up to the Jamaican independence celebrations and there were just Jamaican yellow and green flags everywhere."
Jamaican Usain Bolt, who retained his Olympic 100m title on Sunday, is one of the stars the artist has seen on the large screen.
"It was great for Usain Bolt and shouts of 'there's the big man, there's the big man'. I'd never heard that before," he said.
"Everybody's been really kind of positive towards the painting."
"There's been some insistent kids who've really wanted to be on there, so I've kind of painted people in," he added.
After doing a watercolour sketch in the square on Sunday 29 July, Mr Pointon "bought as big a canvas" as he could store on his boat.
Since then he has kept adding to the 58 ins (147cm) by 39 ins (99cm) painting, while also enjoying the sporting action he could otherwise have missed. The artist does not have a TV on his narrowboat.
He previously captured some of the one thousand boats that took part in the Diamond Jubilee pageant on the River Thames.
Mr Pointon said: "[It's a] completely different looking crowd for this one.
"It's not so much your Union Jacks, it's just the kind of bright yellows and blues and cyans of the Olympics. It's just much more colourful really."
His year on the waterways began in March and the artist is planning to showcase his work at three solo exhibitions starting next spring, with a view to selling the paintings.
And number 35, out of a planned total of 80, will always bring back memories of the Olympics.
Mr Pointon said: "The more time you have with it, the more you can really flesh out a crowd.
"I just keep on adding people and refining people and [try] to somehow kind of capture the ever changing moving mass of people that's in front of me.
"I've just really enjoyed the whole experience of it."