Inquiry calls over 'postcode lottery' fuel prices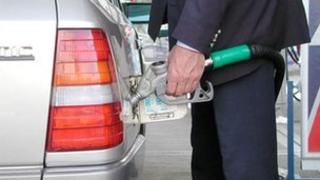 There are calls for a government investigation into supermarket fuel prices.
Councillors in Lincolnshire claim that leading retailers are typically charging more for petrol and diesel at supermarkets in rural areas, compared with stores in larger towns and cities.
The environment portfolio holder for East Lindsey District Council, Tony Bridges, believes motorists in his part of Lincolnshire pay more for their supermarket fuel than drivers in other parts of the county.
Cllr Bridges said: "I fine it quite extraordinary that household food such as bread and milk cost exactly the same in most supermarkets, but when you get to fuel prices they are vastly different. It's like a postcode lottery."
Variable pricing
The major supermarkets have long used discounted fuel as a way to attract shoppers.
But prices at the pumps can vary dramatically depending on where drivers fill-up.
At the time of writing, Tesco was charging 3p a litre more for petrol and diesel at its filling station in Cleethorpes, compared with one of its supermarkets in Lincoln, less than 40 miles away.
A spokesman for the supermarket giant said: "As is the case with all other petrol retailers in the UK, Tesco does not operate with one national price.
"Our clear goal for customers is to endeavour to be competitive on petrol and diesel in the local catchment area for each store."
Most other supermarket chains appear to operate a similar policy, although a spokeswoman for Asda said: "We always set a maximum national price cap, whereas our competition charges higher prices from town to town."
'Crippling' the industry?
Critics of the big supermarkets have accused them of selling petrol and diesel at below cost price to attract customers to their stores.
Speaking to BBC Look North, the chairman of RMI Petrol Retailers' Association, Brian Maddison, said: "We have said to the Office of Fair Trading and to the government that this is crippling the whole retail industry for forecourts in the UK."
The latest survey from the AA revealed that petrol was cheapest in Yorkshire and Humberside and most expensive in Northern Ireland.
The government recently announced it had postponed its 3p a litre rise in fuel duty from August until January 2013.