Sainsbury's Braille signs are 'positive move', says RNIB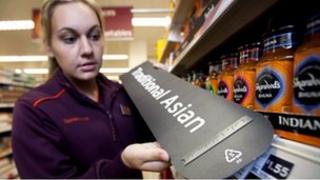 A supermarket in Peterborough is to include braille on its signs to help blind and partially-sighted shoppers.
The Parnwell branch of Sainsbury's will be the second in the UK to use signs carrying a braille panel.
A spokesperson for the Royal National Institute for the Blind (RNIB) welcomed the initiative as a "positive move to improve the shopping experience".
The scheme was first introduced at the company's store in Woolton, Liverpool, in September.
The RNIB worked closely with Woolton store manager, Bethan Wilson, to design the first signs to be installed in the Liverpool store, situated close to a school for the blind.
"The feedback we've had from customers has been really positive," Ms Wilson said.
"It has helped to generate more awareness of the Liverpool Blind School and our colleagues have also worked closely with the school providing tours and the like.
"Our area is renowned for having a range of facilities to support blind or partially-sighted people in the community and many shop at our store," she added.
Sainsbury's Peterborough store manager, Terry Eastcott, said the signs being installed later this month would have a "massive impact on customers who suffer from sight loss".